4VPS (FourServer) Review
$5.30
FourServer (4VPS) is a large selection of locations (21 countries). Flexible tariffs with the option of hourly and daily VPS rental. Website hosting, VPS/VDS and Dedicated server rental, Domain registration.
Description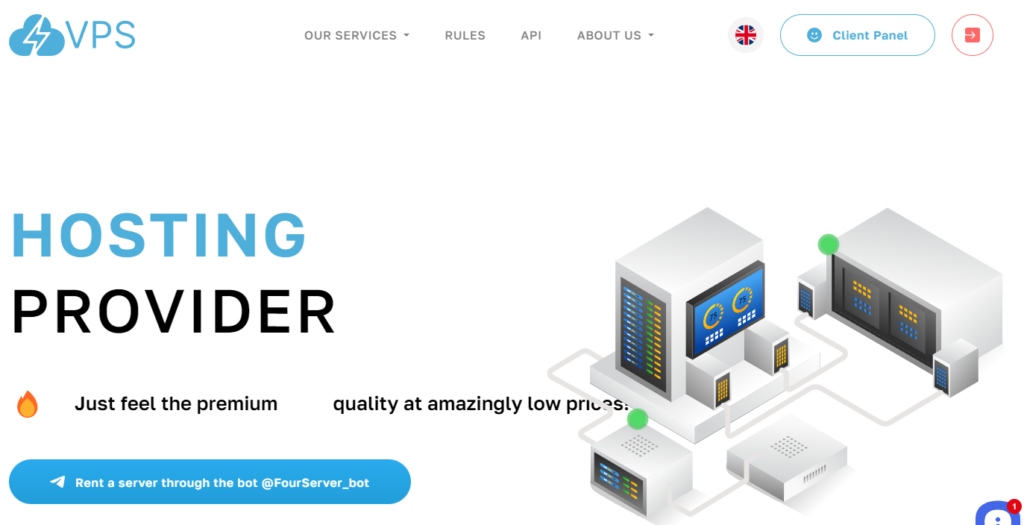 4VPS is a relatively young service (started in 2017), but has achieved impressive results, offering website hosting and virtual server rental services.
Among the features of this service:
Great choice of locations. Users are offered VPS in 21 data centers in 18 countries. Available locations in Europe, USA, Africa, Hong Kong, etc.
High rates of reliability and availability of the proposed servers. The average Uptime (all locations) for the last 90 days is typically not lower than 99.965% – a very good result.
API for service integration with your websites and information systems. With it you can manage services and servers without going to provider's site.
Proprietary Telegram bot. Through it FourServer customers can quickly order a server and perform other actions.
Hosting prices and services
For each location, there are several variants of ready-to-use configurations: you can choose the solution that suits your specific needs.
VPS hourly and daily rental rates are available. This is a great alternative to a trial period and can be beneficial and useful especially when you need a VPS for a part month or for temporary needs.
Renting a virtual server by the day or by the hour allows you the flexibility to use VPS resources according to your needs. You only pay for the actual time of use. It is a cost-effective option which provides maximum flexibility in using VPS. You can find out the prices for these rates in your account settings, there are none on the website.
The company also offers dedicated (Dedicated) physical servers. You can choose a ready-made configuration or adjust some parameters for yourself (depending on the server, you can choose the size of RAM, as well as the type and size of the disk).
Web-site hosting with instant activation and unlimited traffic.
Domain Registration. For a choice it is accessible the huge quantity of domain zones: more than 180.
Lease of IPv4 and/or IPv6 networks.
Where are the data centers with 4VPS servers located
Infrastructure (physical servers, network equipment) is located in different countries, including Russia, Netherlands, Germany, Finland, USA, Canada, Spain, UAE, UK, France, Ukraine, Austria, Italy, Hong Kong, Switzerland, Portugal, Sweden, Turkey, Latvia and Lithuania. That allows to provide global availability of our services and the choice of optimal server location for our customers.
Hoster provides page Uptime of their servers, which shows the quality time 99.788% (at the time of writing the review), which is not bad!
New location in Latvia, Norway, Ireland and Denmark from July 2023. All VPS orders run on powerful 2xE5-2xE5-2697Av4 processor for high performance. Fast NVMe disks and 2Gbit/s network bandwidth. All VPS are provided with basic L3/L4 DDoS attack protection. Geo Belgium is open in August 2023.
Contacts 4VPS
Website: 4vps.su
Company: LLC "GLOBAL INTERNET SOLUTIONS"
Founded: 2017
Website Language: English, Russian, German, French, Portuguese, Spanish, Italian, Chinese, Finnish, Dutch
Support language: English, Russian
Central office:
2999059, Sevastopol, Mayachnaya st., 13
Contact Information:
phone: 8(800)777-06-27, communication via Live chat or Ticket System.
email: support@4vps.su, abuse@4vps.su
Management:
Company's branches: no
Number of staff:
Payments: Bank cards (Visa, MasterCard, Russian cards, Maestro), Payeer, ApplePay, Samsung pay, WebMoney, payments from accounts of Russian mobile operators, several cryptocurrencies: BTC, ETH, USDT, BNB.
Clients: The number of client active servers (VPS) on the company's service exceeds 2,600.
The data are taken from public sources. The dieg.info project is not responsible for the accuracy of the published data.
Additional information
| | |
| --- | --- |
| Status: | PRO |
| Data center: | Austria, Canada, Denmark, Estonia, Finland, France, Germany, Greece, Hong Kong, Ireland, Italy, Latvia, Lithuania, Netherlands, Norway, Portugal, Russia, Spain, Sweden, Switzerland, Turkey, UAE, Ukraine, United Kingdom, USA |
| IPv6 support | Yes |
| Test period: | Hourly rate |