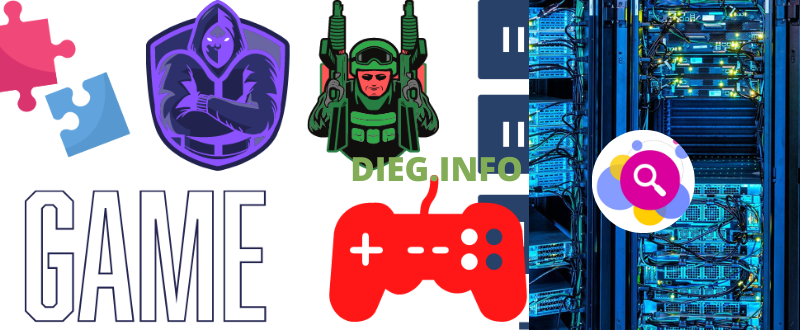 What is game server hosting? Game hosting is a server that you rent for your games. Since it's rented for a specific task, it has to fulfil certain requirements – it's bad if your games are slow.
Game hosting (also known as "game server hosting") is essentially just regular VPS hosting. Game servers do not require a GPU card to render 3D graphics, instead offering synchronised play for multiplayer environments.

How to choose a server for games?
The following criteria should be considered when selecting:
Intuitive user-friendly control panel.
Data centre location (choose the one closer to your core audience for the fastest response time). Low ping is needed to maintain fast synchronisation.
Rate plans. High level of performance. Hosting for games requires a lot more hardware resources than a platform for hosting static websites or other software. Look at what is included in each tariff: how much disc space, storage space, whether there are limits on the number of players.
Stable operation and availability around the clock.
Up-to-date software, support for regular automatic updates.
Customer reviews. Study the reviews of existing customers. You can do this with our rating, which is based on user reviews. Don't forget to leave your feedback!
Scalability: as the number of players on the server increases, the hosting company can quickly and easily add more resources to the server to keep it running smoothly.
1. Fozzy hosting game servers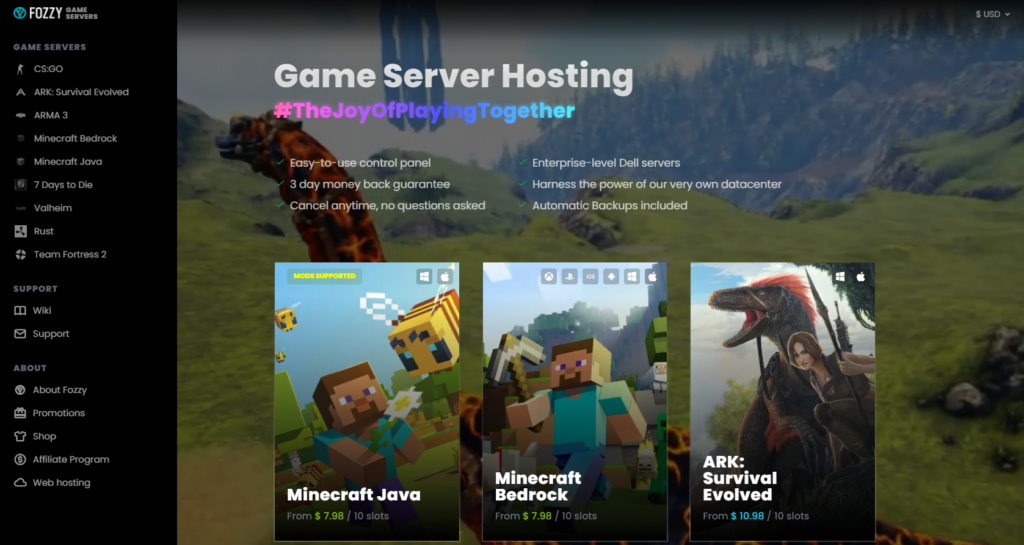 Are you looking for a game server where the main thing is reliable hardware and friendly service? Then Fozzy game servers will suit you.
On it you can host and play such popular games as Minecraft, ARMA 3, 7 Days to Die, Rust, ARK, CS:GO, Team Fortress 2 and Valheim. For each game Fozzy offers several game servers with different set of configurations: number of slots, RAM, etc. In addition, for some games specially made 3-day plans so you can play with your friends on the weekend and not overpay. Within 10 minutes after placing your order you will receive your game server.
The main goal of Fozzy Game Servers is to give everyone the opportunity to play together with friends according to their own rules! Both amateur gamers and professional administrators want to get maximum positive emotions from using game servers.
Testing servers from Fozzy is very easy!
To simply check the reliability and absence of lags, you can connect to one of the public servers of the company. If you want to evaluate all the features, you can take advantage of the 3-day money back guarantee that every customer can get for one service. If you don't like Fozzy's server after testing, you lose nothing!
In addition, as a direct Dell partner, Fozzy Game Servers offers you the service of Dell enterprise level servers that use a 5GHz processor. This is one of the most reliable hardware available.
Fozzy uses the intuitive Pterodactyl game panel to manage its servers. The company is constantly improving the functionality of the panel, making it easy to use. Thus, you don't need to be an expert to manage your own game server.
2. Hostinger Hosting Minecraft – Own a server in a minute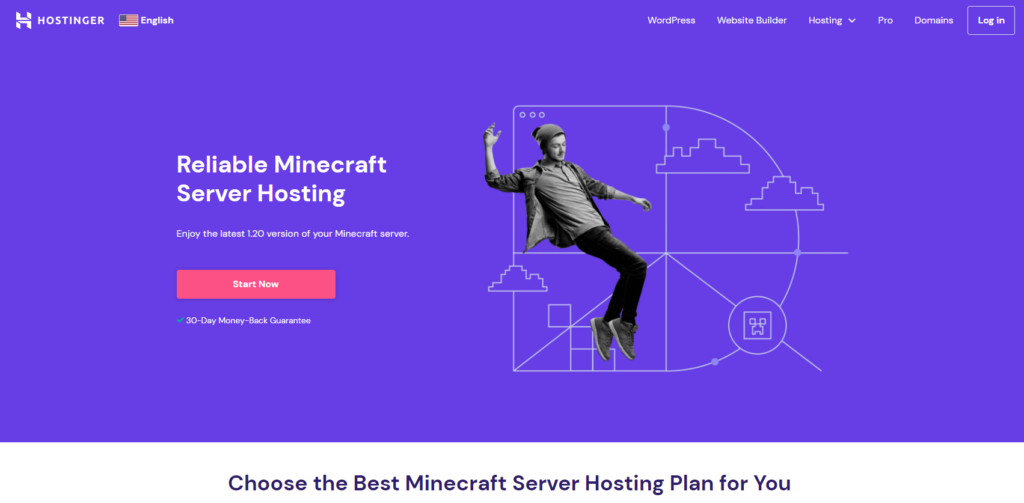 Hostinger knows what Minecraft server needs
Hostinger is one of the best budget website hosts, but it offers quite good and affordable plans for Minecraft servers as well. Hostinger offers root access to your server, whichever Minecraft hosting plan you choose. As a consequence, you will be able to install whatever you want. The service also offers useful free options, such as automatic backups and dedicated IPv4 and IPv6 addresses. The default server option is Forge for custom mods and mod kits, but additional Minecraft server options are available. The VPS platform includes multiple versions of Java.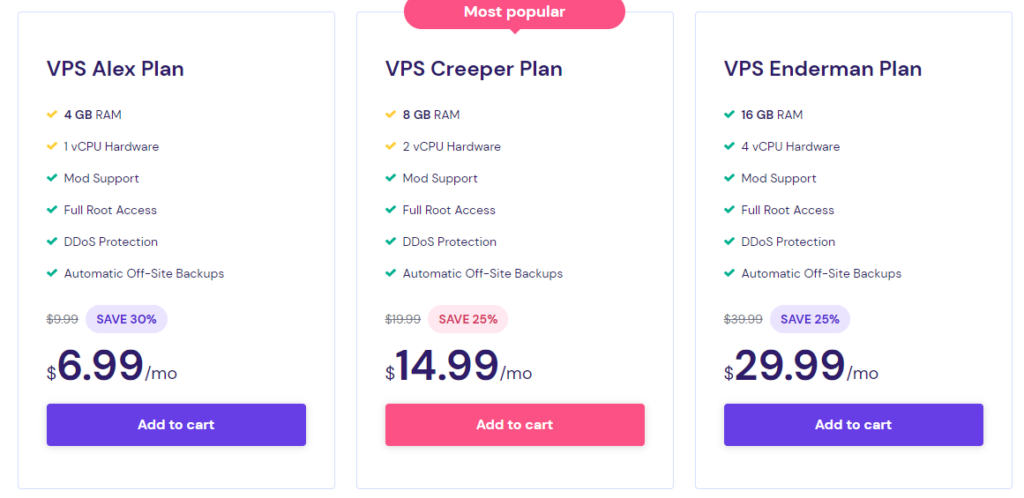 For $6.99 a month, you get 4GB of RAM, 1 core virtual CPU, full mod support, full root access, DDoS protection, and more.
Pros:
Pre-installed versions of Minecraft. Each plan includes several ready-to-install Minecraft servers, including Java and Bedrock versions of the classic game, as well as CraftBukkit, Spigot and PaperMC.
PCI-DSS Compliance: Your server will be PCI-DSS compliant if you want to create premium plans for your server.
A dedicated IP address also makes it much easier for players to join your game. You only need to share your server's IP address, and that's it.
Discounts for longer subscriptions. By subscribing for 4 years at once, you will save a huge amount of money.
Many different types of servers available: You can choose between Vanilla, Spigot and other types of Minecraft servers.
Automatic Backup: Your server is backed up on a regular basis. This way, you can revert to an old backup if something breaks.
Cons:
Renewal prices are higher than enrolment prices: You will have to pay more when renewing your plan.
Hostinger does not extend its availability guarantee to Minecraft servers, although it promises 99.99% uptime in its advertisements.
To use Hostinger for Minecraft, you need to:
Create a Hostinger account. Go to the Hostinger website and click "Create an account". Enter your email address, password and other required information.
Select your Minecraft server hosting plan. Click on the "Minecraft" tab and select the plan that best suits your needs.
Install the Minecraft server software on your Hostinger server. Once you have purchased a plan, you will be able to access the Hostinger control panel. In the control panel, you will find a section for hosting Minecraft servers. Click on the "Install Minecraft" button and follow the instructions.
Configure the Minecraft server settings. After installing the Minecraft server software, you will need to configure the settings. This includes configuring the server name, world name, and other settings.
Invite your friends to join your Minecraft server. Once the server is set up, you can invite your friends to join. They will need to know the server address and port number.
With Hostinger you can easily create and manage your own Minecraft server.
3. InMotionHosting Minecraft get started in less than 5 minutes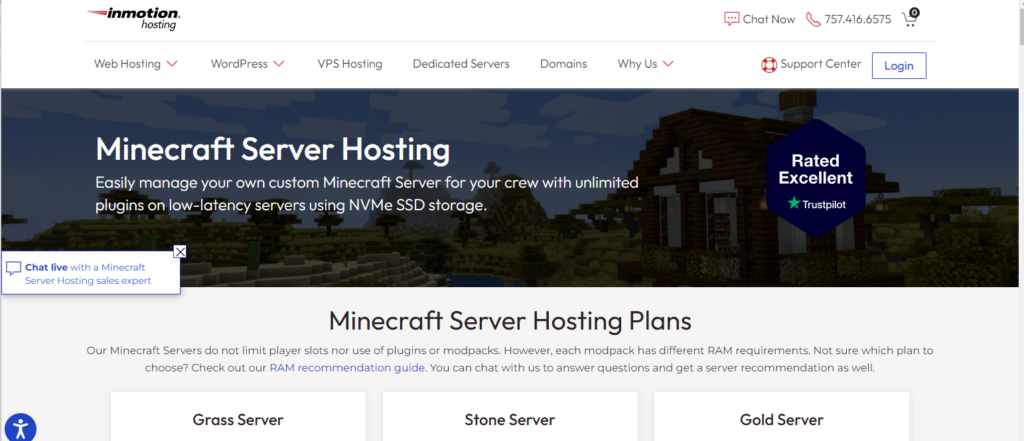 Minecraft servers from InMotionHosting do not limit the number of game slots or the use of plugins or modpacks. However, each modpack has different RAM requirements. You can talk to tech support to get server recommendations.
The TCAdmin control panel includes a plugin for WHMCS that will allow you to install over 75 Steam and Valve games with a graphical interface. Another option is GameCP with VoIP and live chat options.
The best VPS plan for game server hosting at InMotion hosting for up to 12 players: Stone Server, 3GB RAM. Included in all Minecraft server plans:
Get started in less than 5 minutes
JAVA and Bedrock editions supported
Unlimited plugins and mods
Premium hardware with low latency
Powerful game panel with flexible controls
Fast NVMe SSD storage
Dedicated IP address
Full access to files, FTP and MySQL databases
Cloud-based backup
Unlimited number of game slots
Server uptime 99.9%
DDoS protection
Round-the-clock server support
7-day money back guarantee
4. PQ Hosting game VPS/VDS server rental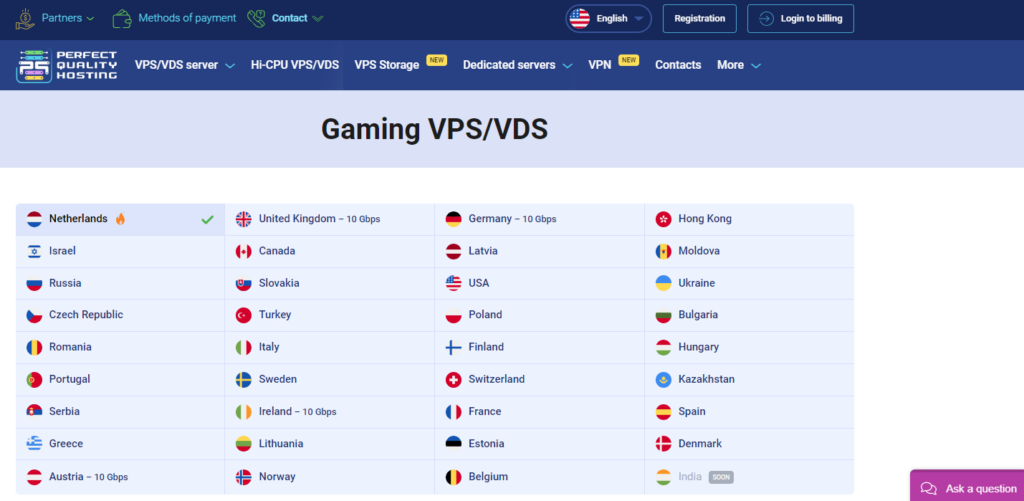 Hosting a game server without the help of professionals is quite difficult. You may find that there is not enough technical training, no experience in defending against hacker attacks, and also notice delays in the gameplay. It is better to turn to dedicated specialists.
Since game servers do not require a graphics processor card for rendering 3D graphics and are designed for synchronised play, you can use an ordinary virtual VPS/VDS server to create a game server.
Advantages of renting a game server from PQ Hosting:
More than 30 locations for your game servers
High speed and constant access. Game servers are physically located in different locations. Due to connection to the largest communication nodes, the stable game speed will not be lower than 100 Mbit/sec.
Flexibility. Virtual game server provides all the functions and administrator access. You will be able to install it for online games of any complexity, with different software requirements.
Can a game server be installed on a VPS?
Yes, you will be able to install a game server on a VPS. The number of resources, and therefore the tariff plan should be selected in accordance with the requirements of the software needed to organise a game server. Renting a server may require significant monetary investments if you need a powerful server. Therefore, before ordering the service, we recommend that you contact the developers (or a dedicated resource) in order to find out what are the system requirements for the necessary software and study the list of proven VPS / VDS hosting providers.
The Hosting Consultant team tested VPS for game servers for:
TOP 3 Best Hosting Providers

DigitalOcean is the preferred cloud infrastructure for startups, SMBs, and developers. DigitalOcean cloud hosting (KVM) with nice rental terms and great functionality for developers.

Data center:

Australia

Canada

Germany

India

Netherlands

Singapore

United Kingdom

USA

Recommended minimum price for 1 Wordpress site:

Test period:

Test period for shared hosting.

Low-cost virtual servers (VPS/VDS) in 30+ countries. Proprietary hardware. 24x7x365 support (SLA 30 minutes). VPS/VDS for wholesale customers. With the promo code

all new customers will receive a 15% discount, which gives you a total of 30% off when you pay for the year.

Data center:

Bulgaria

Canada

Estonia

Finland

France

Germany

Hong Kong

Hungary

Ireland

Israel

Italy

Kazakhstan

Latvia

Lithuania

Moldova

Netherlands

Poland

Portugal

Romania

Russia

Slovakia

Sweden

Switzerland

Turkey

Ukraine

United Kingdom

USA

Austria

Czech

Denmark

Greece

Norway

Spain

Recommended minimum price for 1 Wordpress site:

Test period:

Test period for shared hosting.
You can read more about installing game servers below.
Minecraft: requirements and installation. What is the best hosting for Minecraft?
Minecraft (originally developed by Mojang) is the most popular game that independent players host on a game server. Microsoft acquired Minecraft for $2.5 billion in 2014.
Previous generations of Minecraft required Java to be installed on the game server, but the platform now includes a cross-platform runtime environment.
According to the Minecraft game server developers' technical guidelines, with 10 players online and for the server to work properly, you'll need a server with at least 1GB of RAM and 1 CPU for the base version of the game and a couple or three players. If you plan on installing mods and plugins, we recommend at least 4GB RAM and 2 CPUs. Having more active players on your server will require more RAM to ensure stable and fast server performance in your Minecraft world. Use the following tests of popular mod packages from InMotionHosting to determine how much RAM you need for your Minecraft server. And if you later want to add more players or modpacks to your server, you can always upgrade or downgrade your server version at any time InMotionHosting states.
RAM required for packs and mods: RLCraft modpack: 8GB RAM minimum, SkyFactory4 modpack: 6GB RAM minimum, MineColonie modpack: 6GB RAM minimum, Tekkit modpack: 4GB RAM minimum, Hexxit modpack: 8GB RAM minimum, Revelations modpack: 4GB RAM minimum, Beyond modpack: 4GB RAM minimum, AdvancedWizardy modpack: 4GB RAM minimum, StoneBlock 3 modpack: 6GB RAM minimum, Regrowth modpack: 4GB RAM minimum, Direwolf20 modpack: 6GB RAM minimum, Pixelmon modpack: 3GB RAM minimum, Better MC modpack: 6GB RAM minimum, Vault Hunters 3 modpack: 8GB RAM minimum, All The Mods 8 modpack: 8GB RAM minimum.
I personally recommend Hostinger – it offers decent features at a reasonable price. And for geeks, fans of course PQ Hosting.
For Minecraft it is recommended to use special game control panels Multicraft and McMyAdmin (MCMA). GSP-Panel, Pterodactyl or TCAdmin can be used to support Valve, Steam or third-party games.
Lineage 2: requirements and installation
One of the popular requests among users in recent times is hosting Lineage 2 servers. For the installation and stable operation of a Lineage 2 game server on Linux VPS, the minimum amount of RAM is 1GB. It may also be interesting to rent a Windows server, but then you need to start with 4GB RAM.
Lineage 2 server is upgraded to Freya, while it gets High Five elements. Updates to the game are introduced to make it as interesting as possible for gamers. High online is another indicator of the quality of the Lineage 2 Freya Deiceland server.
Counter-Strike: requirements and installation
KS GO requires serious resources. For example, the server part of "Contra" takes 25 GB. For the correct operation of the game server Counter-Strike requires the following amount of RAM: with 8 active slots requires at least 512 MB of RAM; with 32 active slots requires at least 2048 MB of RAM.
GTA SA-MP: Requirements and installation
Unfortunately, we do not know the official system requirements for the server of this game. However, according to unofficial data for the game server Grand Theft Auto: San Andreas Multiplayer recommended at least 512MB of RAM.
World of Warcraft: requirements and installation
The required characteristics for installing a server World of Warcraft: processor – 2.66 GHz or more, RAM – 2 GB or more, disc space – enough to accommodate databases. More resources will create more comfortable conditions for using the game server.
Team Fortress 2 requirements and installation
Team Fortress 2: a first-person shooter from Valve, first released in 2007
ARK requirements and installation
ARK: Survival Evolved: an independent game from Wildcard Studios (2017).
Rust: requirements and installation
Rust: a popular game released on Steam by Facepunch Studios in 2018.
7 Days to Die: requirements and installation
7 Days to Die: a horror game by The Fun Pimps, released in 2013.
Contagion: requirements and installation
Contagion: a first-person shooter released by Monochrome in 2014.
Conclusion or FAQ on the best game server hosting services
Let's repeat: game hosting is a VPS/VDS or dedicated server with an installed game, to which registered users can connect from anywhere in the world. VPS is a proven option for creating and administering game servers, even on a relatively small budget. It offers an excellent balance between price and performance, and also has the flexibility of configuration, scalability The owner of game hosting on a virtual server has all the advantages that gives its own server equipment, but there is no need to spend money on its purchase and maintenance.
The ever-evolving gaming space is reaching new heights, helping gamers find new adventures and thrills. And to make it easier for you, technology companies are offering advanced game servers with powerful features and functionalities that allow you to play with anyone in the world and enjoy an unrivalled gaming experience.
So, get your game server today on any of the above-mentioned platforms.
Are there free hosting services for game servers?
Finding free game server hosting with quality services is unlikely. The most you can get for free is some sort of trial period (3-7-14 days). It will be great if you can test the product before you buy it. During the test, check the speed of the network connection, the performance of the disc subsystem and if possible, perform a stress test to see if the server can handle the required load. Even if you find free game server hosting providers, don't count on support, uptime or fast servers.
Should you buy cheap game server hosting?
Considering price as a key factor in your choice, you may choose cheap game server hosting if it is a fairly simple project. Different games will have different requirements in terms of performance, speed, etc. Therefore, all information is always worth checking. Do not forget about reliability, security, uptime and other factors. Hosting with 99% uptime can be considered unreliable (which, however, depends on the requirements). Cheap game server hosting with regular outages is clearly less valuable than the affordable options you can choose from in our reviews.
What is a dedicated server for games?
This is a separate dedicated server that must meet the minimum power requirements of the game. Video games require significantly more resources than static websites and other web projects. Therefore, hosting companies leave in their data centres only the equipment that has the most up-to-date multi-core processors, adapted to work with resource-intensive tasks. These servers store player data and execute real-time logic that describes the location and actions of characters in the virtual world.
How much do game servers cost?
The cost of a game server depends on the game server host platform. Game servers can cost anywhere from $5 to $20 per month. VPS packages can cost from $5 to $60 per month. Dedicated servers of comparable capacity can be ordered for $70 to $140 per month.
A dedicated gaming server running on Windows or Linux dedicated server hardware is best for high performance. Shared hosting plans cannot be used as a channel for game developers due to the limitations of the service.
How does the game server work?
The Steam console client (SteamCMD) installs on Linux or Windows servers and provides support for SteamPipe games from Valve and independent third-party game developers.
Games such as Counter-Strike: Global Offensive can be installed on dedicated servers or VPS plans via the command line. Some Steam games allow game servers to introduce mods or modify rule sets. The game server will manage player location, activity, accounts, physics, inventory, rules, and any modifications installed. Installing a game control panel gives administrators a set of free options.
Control panels for game server hosting
Multicraft and McMyAdmin (MCMA) are designed to support Minecraft with a wide range of administration features.
Multicraft: manage thousands of servers with a single admin panel.
GSP-Panel: connects to cPanel and includes support for most games.
Pterodactyl: a free Docker solution built with PHP, React and Go.
TCAdmin: over 75 games with built-in support for Steam updates.
McMyAdmin (MCMA): used by over 35 different service providers.