Cloud hosting DigitalOcean
$6.00
DigitalOcean is the preferred cloud infrastructure for startups, SMBs, and developers. DigitalOcean cloud hosting (KVM) with nice rental terms and great functionality for developers.
Description
DigitalOcean is one of the most popular US cloud rental companies with a headquarters in New York City. DigitalOcean offers a "developer cloud": a network of virtual machines that scales with your site's growth.

Start working with DigitalOcean services for free
To receive the $200 welcome bonus, you need to click on the
DigitalOcean link
and enter your email to receive a $200 credit for your first 60 days with DigitalOcean.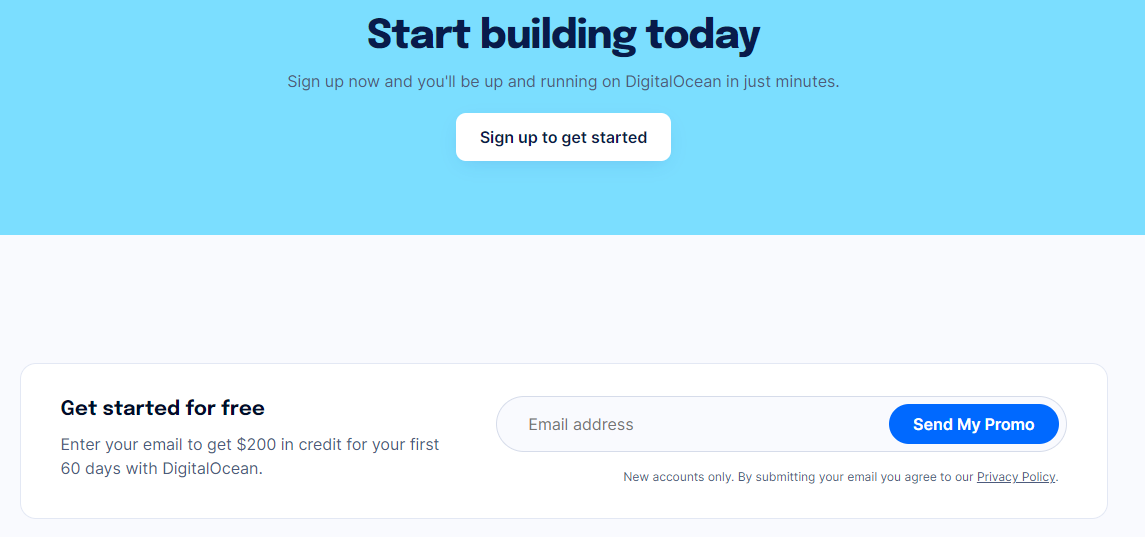 Sooner or later, but every owner of a popular online resource faces a problem when the load on the processor allocated by hosting can not cope with a large flow of clients. In this case, you have to negotiate with the support, move to a more expensive shared hosting. One transition, the second and comes to understand that hosting rates exhausted. Pay about 15-20 dollars a month for the most expensive hosting provider tariff owner of a very popular site can afford. But is it worth paying for such limited resources in memory, CPU minutes, disc space? Definitely not worth it, when there is an opportunity to rent a virtual dedicated server in two or even three times cheaper.
Overall, DigitalOcean offers a wide range of benefits that can benefit businesses of all sizes. If you're looking for a reliable and affordable cloud platform, DigitalOcean is worth considering. Here are some specific examples of how in could utilize these benefits in your business:
Use DigitalOcean's flexibility and scalability to launch seasonal or promotional campaigns. For example, you can run additional servers to handle more traffic during Black Friday or other holiday seasons.
DigitalOcean tools and resources to automate VPS management tasks. For example, you can use the DigitalOcean API to automate backup or upgrade tasks.
Marketplace with out-of-the-box solutions: DigitalOcean offers many pre-installed applications and server images that can be deployed in minutes, reducing server setup time and effort. For example, CMS: WordPress, Drupal, and Joomla; Development and Testing: Docker, GitLab, and Jenkins; Databases including MySQL, PostgreSQL, and Redis; Monitoring and Analytics: Grafana and Prometheus; and much more. VPN is in demand now, and security tools including OpenVPN are also available in the Marketplace.
Kubernetes support: If you're interested in container orchestration, DigitalOcean offers managed Kubernetes clusters, making it easy to deploy and manage microservices.
Networking capabilities: DigitalOcean offers various networking solutions such as private networks, floating IP addresses, and load balancers, improving application performance and reliability.
Support and Community: It is very important that DigitalOcean has an active community and provides extensive support through documentation, tutorials and forums.
History of DigitalOcean service origin
DigitalOcean is one of the most popular American companies providing cloud infrastructure rental services with its main centre located in New York.
The company was born back in 2003, when the Uretsky brothers, who already owned ServerStack, decided not to rest on their laurels and move on. Studying the cloud infrastructure market Ben and Moses came to the conclusion that all virtual servers are mainly oriented to large companies, and amateur developers or independent small companies are left without proper attention. It was this unfair attitude towards independent single developers that prompted the brothers to create a cheap cloud VPS, which is now referred to as DigitalOcean.
The company was officially registered in 2012. The following year, the first shared hosting plans were already available. In just one calendar year, the company managed to attract more than 400 customers from scratch and without much advertising and joined the TechStars startup, where it has enjoyed unprecedented growth, offering affordable cloud hosting.
What does DigitalOcean offer?
DigitalOcean is cloud hosting for power users. DigitalOcean positions itself as an affordable virtual server and promises high performance even for a minimal price. According to them, they activate the web server in 55 seconds. I didn't have to time it, but they stick to their words. I didn't have to wait longer than 2 minutes.
Prices for cloud hosting services start at $5. For this money you will get the most basic set of features: 512 RAM; 20 GB SSD; 1 Core; 1 TB Traffic.
Taking into account that DigitalOcean equipment, according to technical support, is updated regularly, there is a good chance to get a fast inexpensive VPS server, which will withstand a site with a flow of up to several thousand visitors per day. The most expensive tariff will cost $80 and is stuffed to the max: 8GB RAM; 80GB SSD; 4 Cores; 5 TB Traffic.
For the former CIS countries it is better to choose VPS servers of the company located in Amsterdam or Frankfurt. During tests c gives an average ping of about 40 ms. Online monitoring of uptime gives out 100% in Amsterdam and 99.98% in New York.
Pros DigitalOcean
Starting tariff from $5. Unfortunately, even in our country, with rather low electricity prices, it is almost impossible to find a normal virtual dedicated server with good support for such a cost.
Fast server activation. Activation and installation of any Linux version from the list of available versions takes seconds.
Hourly payment. After purchasing cloud hosting, you have the opportunity to pay not only monthly, but also hourly. It is very convenient for developers who are engaged in testing projects for a limited period of time.
DNS support. This is rather not an advantage, but a prerequisite for any shared hosting, however, it is here, because there are quite a lot of providers sinning with this feature.
SSH access from the control panel. Just convenient, no more.
VPS virtualisation type using KVM (full virtualisation).
Good documentation of setup on the website
Be sure to leave a review on the DigitalOcean website, you will help others!
Cons
There is no official Windows virtualisation. But you can install a virtual Windows server at will and with your own tambourine:).
Traffic is limited. Recently, the company decided to fight with clients who use cloud hosting for file sharing, operating on the fact that there are specialised services for such purposes.
Limited number of Linux kernels. You can not install your own Linux kernel on cloud hosting, but in the list to choose from there are about 50 different versions.
You have to pay for the off VPS. Whether you use shared hosting or not, you will have to pay for it. In order to avoid being charged, you need to take a snapshot and remove the VPS.
Where are DigitalOcean data centers located?
DigitalOcean servers are currently located in 9 regions around the world, allowing them to serve a significant portion of users. A region is a geographic area with one or more data centers. Below is a list of data centers currently in operation:
USA New York: NYC1, NYC2, NYC3
USA San Francisco: SFO1, SFO2.
Canada Toronto: TOR1
UK London: LON1
Germany Frankfurt am Main: FRA1
Netherlands Amsterdam: AMS2, AMS3
Singapore: SGP1
India Bangalore: BLR1
Australia Sydney: SYD1
Contacts DigitalOcean
Website: digitalocean.com
Company: DigitalOcean, LLC registered USA
Founded: 2012
Website Language: English
Support language: English
Central office:
country: USA
city: New York, NY 10013
address: 101 Avenue of the Americas, 10th Floor
Contact Information:
phone: no
email: support@digitalocean.com
Management:
Position: Chief Executive Officer
Full name: Yancey Spruill
Company's branches:
Number of staff: 501 to 1000
Payments: Bank cards (Visa, MasterCard), PayPal.
The data are taken from public sources. The dieg.info project is not responsible for the accuracy of the published data.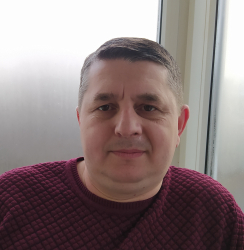 Latest posts by Dmytro Yakovenko
(see all)