InMotion Hosting Review
$3.29
Market Leader. The best web hosting for GEO USA. Premium web hosting with 24/7/365 technical support, 99.99% uptime and money-back guarantee.
Description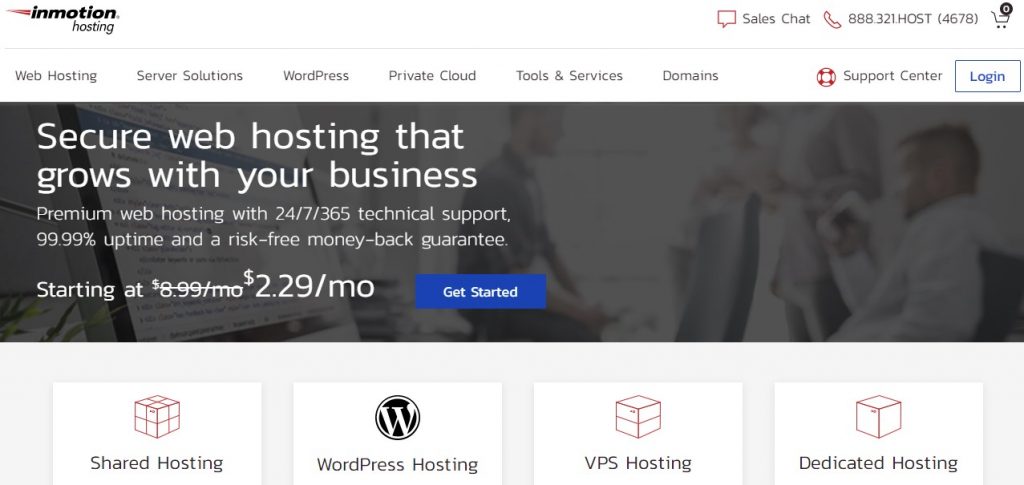 InMotion Hosting is a privately held technology company providing web hosting, cloud solutions and managed services to businesses and entrepreneurs around the world.
Where are the data centers of InMotion located
West Coast of the United States. One of InMotion Hosting's data centers is located in Los Angeles, California, on the West Coast of the United States. This data center is located in a highly developed region with state-of-the-art network infrastructure, providing an ideal location for high-performance web hosting services for users around the world. While users in the Pacific region are likely to see the lowest latency, the high-bandwidth network infrastructure will ensure reliable performance no matter what region you connect from.
East Coast of the United States. Another InMotion Hosting data center is located in Ashburn, Virginia, on the U.S. East Coast. Like the West Coast data center, this region is highly developed with state-of-the-art network infrastructure. While users connecting to this data center from the Atlantic region will see the lowest latency, users from anywhere in the world can connect to this data center and enjoy reliable, high-speed web hosting services. Thanks to advances in fiber optic technology and server-side optimization, high-performance web hosting is always at your fingertips, no matter where you are.
Amsterdam – Europe. InMotion Hosting's newest European data centre is located in Amsterdam, Netherlands . The purpose-built three-storey data centre is renowned for its connectivity, reliability and multi-layered security measures. It is also home to three of the world's largest Internet exchanges and is close to several key undersea cable TV stations. InMotion Hosting customers located in Europe will see even faster website speeds and better performance.
Clients can rest assured that their sensitive data is thoroughly protected in full compliance with strict privacy standards. Within InMotion Hosting's European data centre, servers are equipped with the same flagship hardware and software as other hosting services. From speed-enhancing NVMe drives to UltraStack configuration management and other powerful open source technologies, everything is ready for fast content delivery, optimised resources and maximum performance.
Contacts InMotion
Website: inmotionhosting.com
Company: InMotion – registered in the USA.
Founded: 2001
Website Language: English
Support language: English
Central office:
country: USA
city: Virginia Beach, VA23452
address: 555 S. Independence Blvd
Contact Information:
phone: 888-321-4678, 757-416-6575, 24/7 Live chat, Ticket System, Skype Call: inmotion-sales.
email: support@inmotionhosting.com, sales@inmotionhosting.com
Management:
Position: Co-founded
Full name: Sunil Saxena and Todd Robinson
Company's branches: in Los Angeles, California, Virginia Beach, Virginia and Denver, Colorado.
Number of staff:
Payments: Bank cards (Visa, MasterCard, American Express, Discover), PayPal, Google Pay.
Clients: more than 170,000 customers.
The data are taken from public sources. The dieg.info project is not responsible for the accuracy of the published data.
Additional information
| | |
| --- | --- |
| Data center: | |
| Professional support CMS: | Drupal, Joomla, Magento, WooCommerce, WordPress |
| Website Builder: | No |
| Status: | PRO |