Domain registrar Hover
$1.00
Hover works solely as a domain registrar and does not bombard you with offers to buy anything else! That means you'll have to use a different hosting provider to host your websites.
Forward" tool – redirects the site to another site, subfolder, subdomain or third-party service. The Hover Connect service makes it easy to connect your domain to your favorite hosting or publishing tools with just one or two clicks, such as Etsy, Instagram, Twitch.tv, Twitter and dozens more. Use your Hover domain with any of the most popular services on the web.
Hover also offers built-in tools for managing your domains, DNS and email.
Description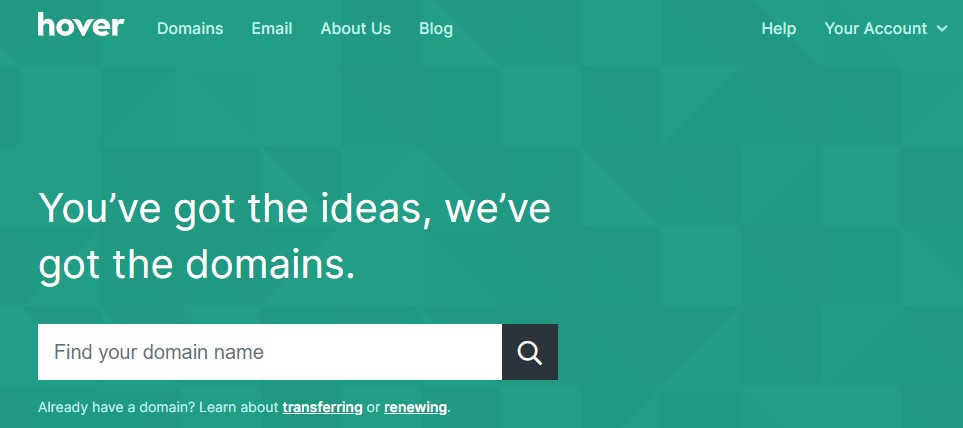 The Hover  is a domain name registrar that helps you register new domains, renew existing domains or transfer them to Hover. It offers more than 300 top-level domains, or domain zones, such as .com, .net, .ca, .org.
Enter the name of your business or keywords related to it and Hover will display hundreds of available domain address options.
This domain name registrar also offers built-in tools for managing your domains, DNS and email. In terms of security, Hover provides free WHOIS data protection for all domain names and two-factor authentication.
It may even be a plus that Hover works exclusively as a domain registrar, because you will not be bombarded with offers to make additional purchases. That is, you have to use another hosting provider to host websites.
Hover advantages
Free hiding of credentials in the WHOIS database – Whois Privacy Protection.
Discounts when buying multiple domains at once.
Domain renewal is automatic.
Constant prices for domains, no giant jumps.
The "Forward" tool redirects the site to another site, subfolder or subdomain.
The  «Connect» feature will help you start using your domain name in a few clicks.
DNS: Support for DNSSEC
DNS: Support for Glue Records
Changing name servers (NS)
DNS nameservers point to the ISP that manages your domain's DNS settings. DNS management can be done through Hover, your hosting provider, or a third-party DNS provider.
If a domain is initially registered through Hover, it will default to our name servers, which are ns1.hover.com and ns2.hover.com. Some ISPs require that you use their name servers to set up DNS, in which case they will tell you which nameservers to use.
Something to keep in mind when changing nameservers:
Each domain requires at least two name servers to function properly (in the case of a Hover provider, these are ns1.hover.com and ns2.hover.com)
DNS and/or Whois changes are applied for up to 24-48 hours, which is how long it may take for them to propagate across the Internet.
Once saved, we cannot stop the name server change.
The Connect and Forward tools on our site require the name servers to be pointed to Hover.
Your domain cannot have name servers targeting multiple ISPs at the same time, this will result in a service disruption.
Setting up name servers for domains
You can edit your nameservers not only in the domain properties, but also directly from the Nameservers page in the navigation bar. I recommend this method because it has a "Reset nameservers" button that allows you to automatically substitute the correct NS servers, without manual input. As you can see in the screenshot, you need to go to the "Nameservers" tab, then highlight the domain you want and click on "Reset nameservers". When you are done, the NS will change to the default servers.

Forward tool: How to set up a redirect to another site
Hover.com has one little-known feature that allows you to manage a full website with a large number of URLs without having your own site. Redirection options: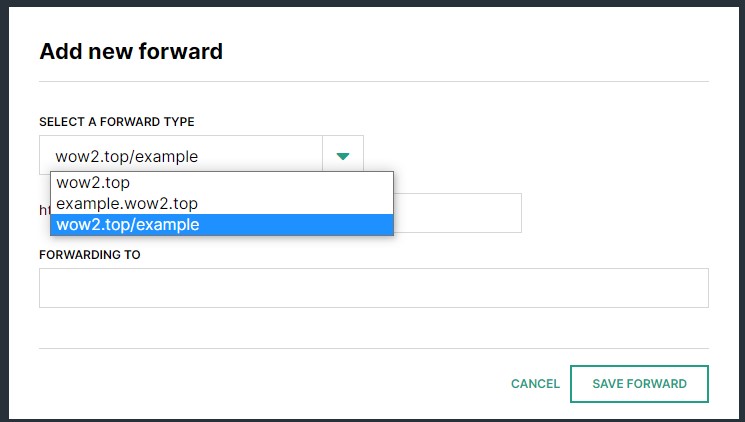 In this video we will see how to easily forward (redirect) domains using Hover.