Liquid Web Review
$13.30
14 days free testing of WooCommerce or WordPress rates. The combination of Liquid Web and Nexcess has allowed them to become market leaders with Magento, WordPress and WooCommerce specialization. 24/7/365 tech support. Affordable, high performance and easy to scale hosting for eCommerce and websites.
Description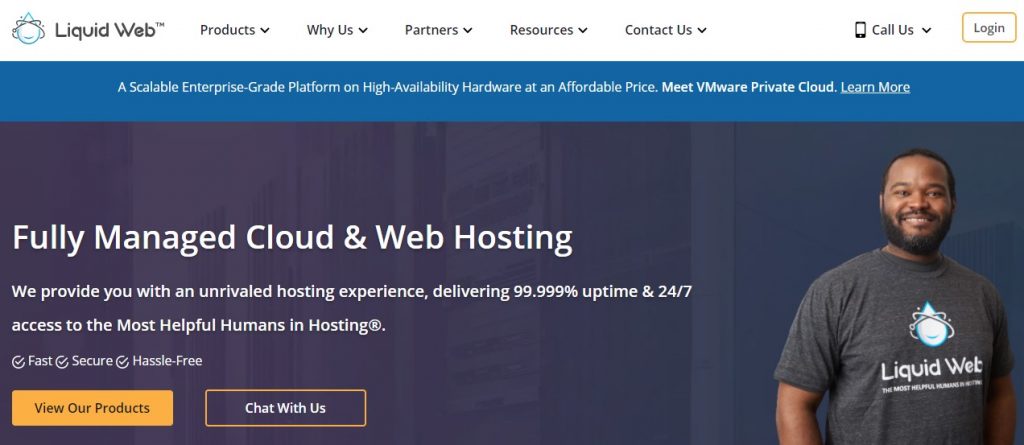 4 September 2019 Liquid Web, the market leader in managed hosting and Nexcess, a leading provider of managed hosting for e-commerce platforms, have merged. This partnership expands the global reach of both companies, now with 650 employees, 11 data centres and a portfolio of full-service web hosting applications and managed cloud. The combination of the two companies and their extensive experience in Magento, WordPress and WooCommerce has made Liquid Web and Nexcess the market leaders in cloud hosting services.
Liquid Web was founded in 1997 in Michigan. Most cloud hosting companies not only use their own servers but also third-party servers, but Liquid Web relies solely on their data centres. The provider owns more than 25,000 servers in the US and Europe.
Where are the Liquid Web servers located
Liquid Web operates several data centres located in Lansing, Phoenix and Amsterdam. Location, number of servers in data centre, compliance:
USA, Lansing, Michigan. Capacity: 33,000 servers. SSAE-16 and HIPAA compliance.
US West, Location: Phoenix, Arizona. Capacity: 2,000 servers. SSAE-16 and HIPAA compliant.
Central Europe: Amsterdam, Netherlands. Capacity: 8000 servers. PCI DSS compliant. ISAE 3402 compliant. ISO9001 certified. ISO14001 certified. ISO27001 certified. AMS-IX compliant
You can check the access speed from your desired data centre at Data Centers – Liquid Web page. Note that the measured speed is limited by your local device connection (mobile device users using 3G will see significantly lower speeds than those connected to a DSL/cable modem).


Liquid Web products and prices
The services of the hosting provider are not focused on small sites and one-page web pages, but on large projects. The hosting plans of Liquid Web hosting cannot be called cheap, and if you have a limited budget and need 1 site on WordPress, you can choose not cloud hosting, one of the proven hosting providers. For a high-load site, you can buy managed hosting on CMS WordPress and the WooCommerce commerce platform. Liquid doesn't have long-term subscriptions, so you can pay every month without overpaying for services.
VPS hosting from Liquid is faster than AWS and Rackspace and uses solid-state drives for maximum reliability.
The provider offers discounts for ordering services for 1 and 2 years. There are also codes on the service pages that allow you to save up to 50% on orders.


Managed WordPress cloud hosting and WooCommerce shop
A high-performance cloud platform providing exceptional speed, scalability and security for WordPress and WooCommerce.
The platform is built on the latest PHP, SSL and Nginx technologies to enhance the speed of WordPress. The WooCommerce plugin is suitable for any type of shop, both for selling physical goods and for selling digital goods (online courses, subscriptions).
Managed WordPress Hosting (Cloud)
Managed WooCommerce (Cloud)
For all tariff plans:
No Pageview/Traffic Limits.
Free SSL.
Themes Security Pro security plugin is provided. iThemes Sync plugin for managing all your sites from one place and Beaver Builder Lite – page builder.
Unlimited Email Accounts.
30-day backup.
For all tariff plans:
Nexcess' performance monitoring plugin helps you see potential shop performance issues long before they affect sales. The plugin monitors your site's performance every day, capturing and comparing the performance of your WordPress site before and after changes are made to the site or theme.
Sales performance monitoring will alert you if your shop is experiencing service or payment processor problems.
Proper caching – drastically speeds up the site.
We have developed 20 tests to check the speed of the shop under load! You won't be able to do these tests with any other hosting provider.
Integration with Recapture the leader in abandoned cart technology for WooCommerce.
Free SSL.
30-day backup.
Test WooCommerce for free for 14 days, Liquid Web is so confident in the quality of their service that they don't even ask for a credit card. To test WordPress for free for 14 days, go to the cloud hosting page.

Managed VPS hosting
Get affordable, secure and fast VPS hosting compared to AWS, Rackspace and Digital Ocean. Fully managed cloud-based Virtual Private Server (VPS) hosting solutions deliver reliability and speed. Control your servers, reduce risk and optimise performance with managed VPS hosting solutions. Plus, support is available 24 hours a day, 7 days a week, 365 days a week to help you find the best hosting solution for your business needs.
Certified administrators are ready to help 24/7/365
100% uninterrupted network and power supply with SLA
Fast and FREE migration
Special introductory offer: Save up to 75% on 24 and 12 month plans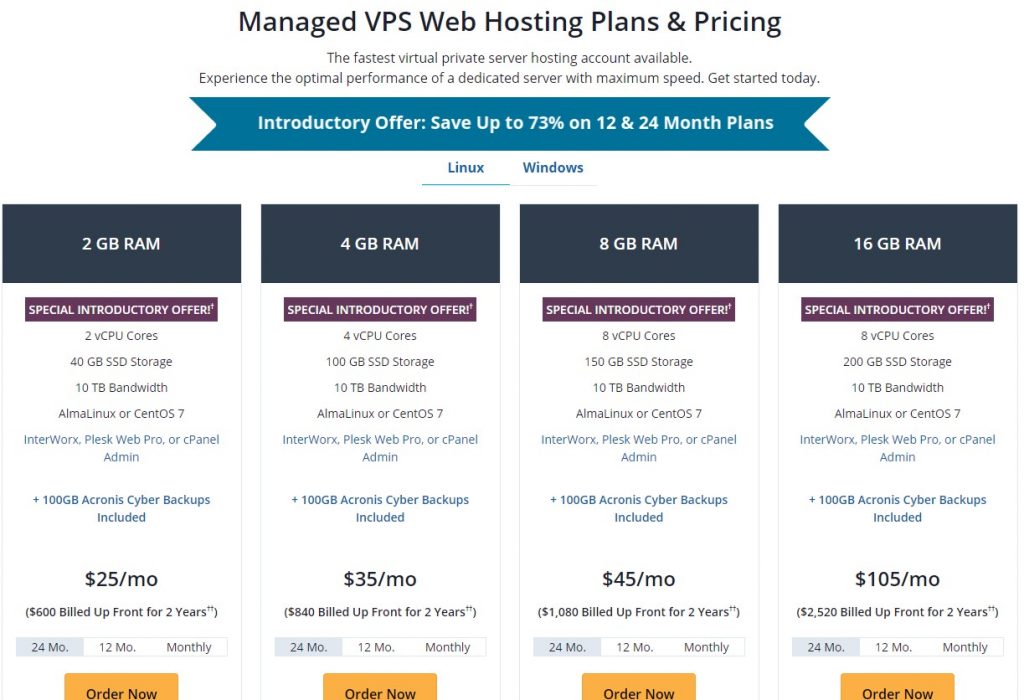 Dedicated servers
High-performance dedicated servers provide security, uninterrupted operation and customisation for your business.


Cloud Sites
Cloud Sites is a managed hosting platform that gives creative people the freedom to create and run websites without having to learn cPanel or server management. Whether you're developing in PHP or .NET or hosting WordPress, Drupal or Joomla, Cloud Sites allows you to quickly launch and manage your websites without any extra effort.
Reseller hosting
Growing a hosting business can be a daunting task. Attracting customers, providing support and maintaining servers takes time and resources. Liquid Web helps hosting resellers by providing fully managed hosting products, removing the burden of server management from your team so they can focus on what they do best. The reseller hosting programme offers tiered discounts to keep your prices competitive.
Benefits:
Free license of WHMCS, a powerful billing and automation platform for hosting resellers.
100% SLA guarantee.
Free WHMCS plugin allows you to create Storm VPS and Storm Dedicated accounts automatically.
No need to hire system administrator.
Free DDoS attack protection
Additional services
Advanced backup and recovery. Combines the most useful elements of several different applications to provide a centralised place to store all your files. Easy recovery of the entire system.  Priced at $0.08GB per month.
Premium email hosting for businesses. Priced from $2 to $11 per month for 1 email account.
Support for using Plesk servers with WHMCS.
Akamai CDN – content delivery network to reduce page load time every time.
To explore all the additional services go to this page of the website.
Liquid Web vs. HostGator
Choosing the cheapest option for hosting almost never works. Poor support or unplanned downtime, cutting costs by choosing a host like HostGator can have disastrous consequences. Unmanaged infrastructure can lead to unforeseen technical problems. Irregular backups can mean that you don't have the latest version of a website or application. And unmonitored services mean you may have problems lurking on your servers that you'll never know about.
With Liquid Web, unlike HostGator, you'll get a 100% network and UpTime guarantee for managed hosting services. Plus, you'll have access to a team of over 300 technicians, system administrators, and server engineers.
Liquid Web is committed to answering your call or connecting to your LiveChat within 59 seconds!
Contacts Liquid Web
Website: liquidweb.com
Company: Liquid Web Inc – registered in the USA.
Founded: 1997
Website Language: English
Support language: English
Central office:
address: Liquid Web Inc 2703 Ena Dr. Lansing, MI 48917, US
Contact Information:
phone: 1 800 580 4985, Live chat or Ticket System.
email: media@liquidweb.com
Management:
Position: Chief Executive Officer
Full name: Jim Geiger
Company's branches:
Number of staff: 650
Payments: Bank cards (Visa, MasterCard, American Express), PayPal.
Clients: Liquid Web prides itself on being a leader in customer loyalty in the hosting industry. We are specifically built for mission-critical websites, shops and applications. With over 30,000 customers in 150 countries, the company has a world-class team, global datacentres and an expert team of solution engineers working 24/7/365. For twelve years the company has been ranked in INC Magazine's list of 5000 fastest growing companies. It has more than 1 million websites under management.
The data are taken from public sources. The dieg.info project is not responsible for the accuracy of the published data.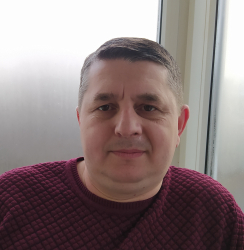 Latest posts by Dmytro Yakovenko
(see all)
Additional information
| | |
| --- | --- |
| Data centers: | |
| Professional support CMS: | Magento, WooCommerce, WordPress |
| Test period: | 14 days |
| VPS lowest price (payment per year): $ | 45.00 |