Contabo Review
$5.50
Contabo is one of the leading platforms offering dedicated servers and quality VPS servers at the lowest prices.
Description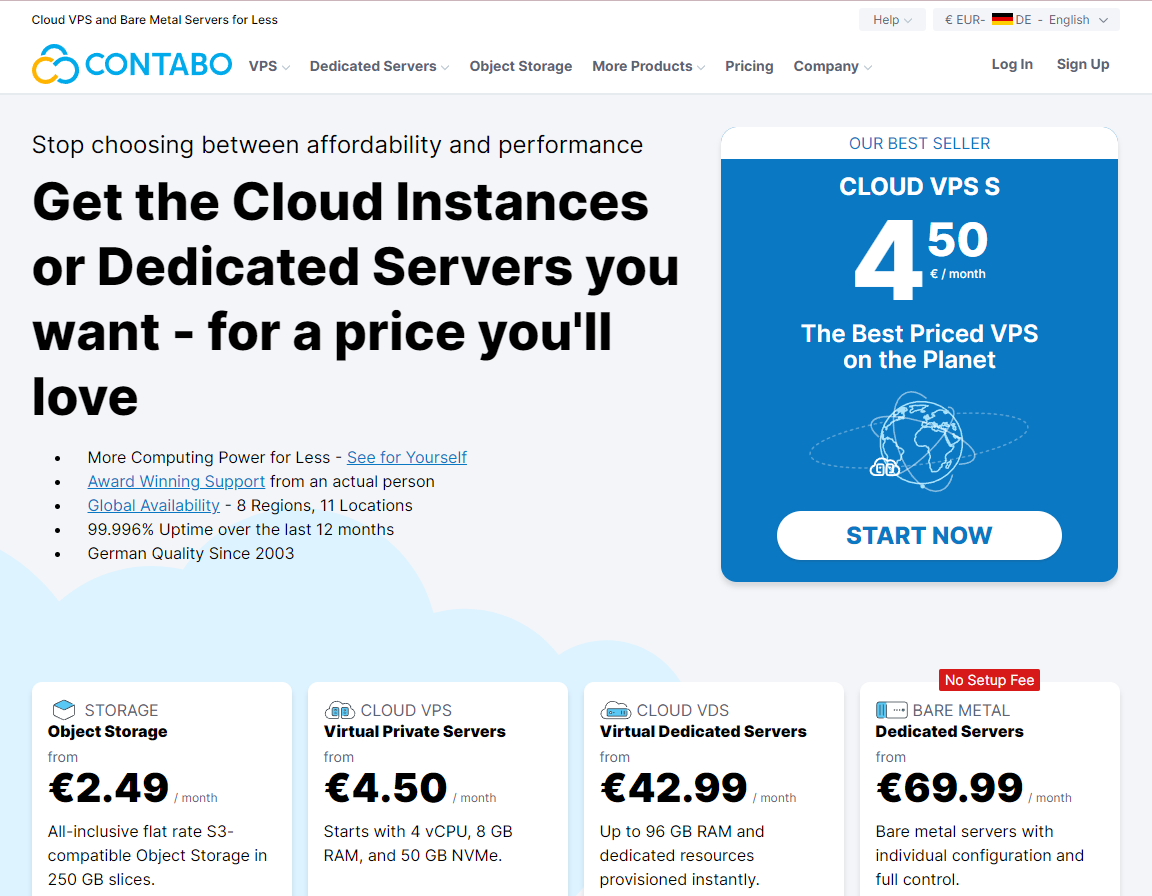 Founded in 2003, Germany-based Contabo has quickly established itself as one of the leading providers of VPS and dedicated servers, serving over 70,000 customers in 179 countries.
Contabo servers are not only equipped with the latest hardware (AMD EPYC™ 7282 processors, NVMe or SSD solid state drives, large amounts of RAM and traffic), but are also offered at an unprecedented price! The minimum contract period for the best-selling products is only one month, making them very competitive for both newcomers and professionals who run an established business and are looking for a great price/performance ratio for their server hardware.
Contabo services
Virtual servers (VPS): Contabo provides various virtual server plans that allow you to rent virtual servers with specific resources (memory, CPU cores, storage) to suit your needs.
Dedicated Servers: If you need more powerful computing resources and full control over your server, Contabo offers dedicated servers that are provided exclusively for your applications and websites.
Hosting: Includes the ability to register a domain name and utilize different hosting packages depending on your needs.
Domain name registration: Contabo provides domain name registration services, which means you can register a unique domain name for your website.
SSL Certificates: They also provide SSL certificates, which provide a secure and encrypted connection between the web server and the user's browser.
Where Contabo data centers are located
Contabo owns and operates several data centers in Germany (Munich) that provide a high level of security and reliability for their customers. Contabo's data centers are located in different geographical areas, which can provide fast access to websites and applications for users from different regions of the world. Servers are located in 8 regions and 11 datacenters: Australia, UK, Germany, Singapore, USA (East, Center and West), Japan.
Recommended Contabo prices and tariffs
Choosing a recommended VPS plan on Contabo depends on your specific needs, such as the amount of traffic, CPU power requirements, memory and storage capacity. Below is the recommended and popular CLOUD VPS S to VPS tariff. The price of CLOUD VPS S tariff is only $5.50 / month, and you get KVM virtualization with parameters: 4 CPU cores, 8GB RAM, 50GB NVMe or 200GB SSD storage of your choice, Unlimited traffic, 1Gbps network interface, 1 snapshot of your VPS. This tariff is probably the best offer on the market in Europe (other locations like Japan will be more expensive)! By default Contabo guarantees unlimited traffic at 100 Mbps to and from your server.
Most services are paid monthly. Some products, such as domains, are charged on an annual basis.
It is also recommended that you consider the planned growth of your project and choose a plan that will provide sufficient resources for your application or website in the future. You can order VSP upgrades (without data loss) at any time through Contabo's Client Control Panel. Simply click "Manage" next to the VPS you want to upgrade and select "Upgrade VPS".
Testing VPS Contabo
For testing I chose the recommended tariff CLOUD VPS S in Germany location. Let the numbers speak for themselves, but in my opinion for 5.5 dollars a month and with this configuration everything is just fine!

CPU Model          : AMD EPYC 7282 16-Core Processor
CPU Cores          : 4 @ 2794.748 MHz
CPU Cache          : 512 KB
AES-NI             : ✓ Enabled
VM-x/AMD-V         : ✗ Disabled
Total Disk         : 48.9 GB
Total Mem          : 7.8 GB
TCP CC             : cubic
Virtualization     : Dedicated
IPv4/IPv6          : ✓ Online / ✓ Online
Organization       : AS51167 Contabo GmbH
Location           : Düsseldorf / DE
Region             : North Rhine-Westphalia

CPU: SHA256-hashing 500 MB
3.170 seconds
CPU: bzip2-compressing 500 MB
5.623 seconds
CPU: AES-encrypting 500 MB
1.161 seconds

ioping: seek rate
min/avg/max/mdev = 32.0 us / 73.2 us / 7.32 ms / 89.6 us
ioping: sequential read speed
generated 26.6 k requests in 5.00 s, 6.50 GiB, 5.32 k iops, 1.30 GiB/s

----------------------------------------------------------
I/O Speed(1st run) : 126 MB/s
I/O Speed(2nd run) : 945 MB/s
I/O Speed(3rd run) : 1.0 GB/s
I/O Speed(average) : 698.3 MB/s
Pros and cons of Contabo
Like most hosting companies, Contabo has its pros and cons. However, it's important to remember that the experience can vary depending on the specific needs of the customer and the hosting plan they choose. Here are some common pros and cons of Contabo:
Contabo pros:
Affordable prices: Contabo provides good hosting services at relatively low prices, making them affordable for small businesses and personal projects.
Wide range of pricing plans: They offer different pricing plans for virtual servers and dedicated servers, allowing you to choose the resources according to the client's needs.
Technical Support: The company provides technical support for their clients, which can be important when problems or questions arise.
Flexibility in server customization: Contabo provides options to customize servers according to the client's requirements, including different operating systems and software.
Multiple payment options: They accept a variety of payment methods including credit cards, PayPal, and wire transfers.
Contabo's cons:
Timing of technical support: Some users complain about technical support response times, which can be long compared to other hosting companies.
When choosing a hosting provider, it is important to consider your specific needs and budget, and read reviews and testimonials from other users to make an informed decision.
Contacts Contabo
Website: contabo.com
Company: Contabo GmbH – registered in Germany
Founded: 2003
Website Language: English, German
Support language: English, German
Central office:
Contabo GmbH Aschauer Strasse 32a 81549 Munich Germany
Contact Information:
phone: 49 89 3564717 70, communication via Ticket System.
email: info@contabo.com
Management:
Position: Managing Directors
Full name: Dr. Christian Böing and Thomas Schimmel
Company's branches: no
Number of staff: over 300 employees
Payments: Bank transfers, PayPal, Skrill.
Clients: 20 years after its founding, Contabo has grown from two people to a team of approximately 300 people offering servers in 11 locations in 8 regions on 4 continents.
The data are taken from public sources. The dieg.info project is not responsible for the accuracy of the published data.
Additional information
| | |
| --- | --- |
| Data center: | |
| IPv6 support | Yes |
| Test period: | No |