Web Hosting Name.com
$6.00
Name.com is a domain registrar and web solutions provider: Shared Hosting, WordPress Hosting, E-mail Hosting, Wix website builder, SSL certificates.
Description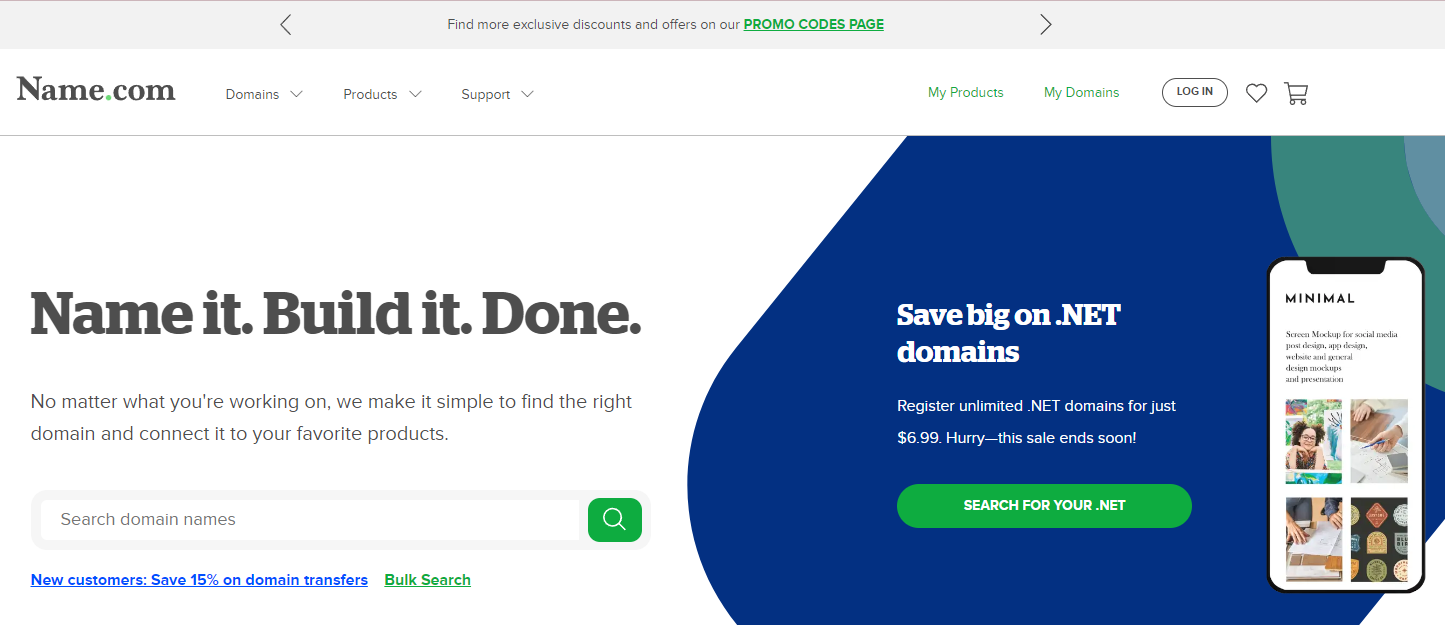 Name.com is an ICANN-accredited domain name registrar and web hosting company based in Denver, Colorado. The company sells DNS, domains, web hosting, email services, SSL certificates, and other website products. Name.com is part of Identity Digital, a leading domain name services company (Fortune 50 companies own Identity Digital domains).
You don't have to juggle a dozen platforms and logins. You can consolidate your domains, Wix, Google Workspace, Titan email and more under one roof using the hoster's services. Also provide a convenient service to search for expiring domains.
Wix Website Builder
With Wix, you get everything you need to build your business online on a platform backed by an industry-leading infrastructure that provides security, performance and reliability. Building a website with Wix does not require any programming knowledge. The Wix editor is an intuitive and easy-to-use tool that allows you to organise content, add pages and structure your site without having to access a code editor. Knowing how to code can help you add some custom elements to your site, but Wix is designed for everyone from web design experts to beginners.
Wix Website Builder offers a free plan. The free Google Workspace plan is only available with the Wix annual plan.
Choose from over 500 professionally designed Wix templates and create a business website in minutes. Wix has built-in marketing tools that make it easy to reach new audiences and build stronger relationships with your customers. Your Wix website plan includes a free custom domain name. You can choose a traditional domain such as .COM or descriptive domains such as .IO, .LIVE and .DIGITAL.
Built-in SEO features and tools allow you to customise meta tags, URL structure and more. Security is included with Wix. Each site includes enterprise-grade security features, including an automatically installed SSL certificate.
Contacts Name.com
Website: name.com
Company: Name.com, Inc – registered in the USA
Founded:
Website Language: English
Support language: English
Central office: 414 14th Street #200 Denver, Colorado 80202, USA
Contact Information:
phone: FAX +17202350091, communication via 24/7 Live chat and Ticket System
email:
Management:
Company's branches:
Number of staff:
Payments: Bank cards (Visa, MasterCard, American Express, Discover), PayPal.
Clients:
The data are taken from public sources. The dieg.info project is not responsible for the accuracy of the published data.
Additional information
| | |
| --- | --- |
| Professional support CMS: | WordPress |
| Website Builder: | $3.88 |
| Data center: | |