Web Hosting AdminVPS
$4.60
AdminVPS is the first Russian hosting company to provide free administration services on the system "All inclusive". Set of free services: Free administration services (administration services for dedicated servers and VPS on Windows OS are NOT provided!), Free control panel ISPmanager, Free DNS server support, Free daily backups (in AdminVPS backup copies on virtual servers are done for free once a week).
Description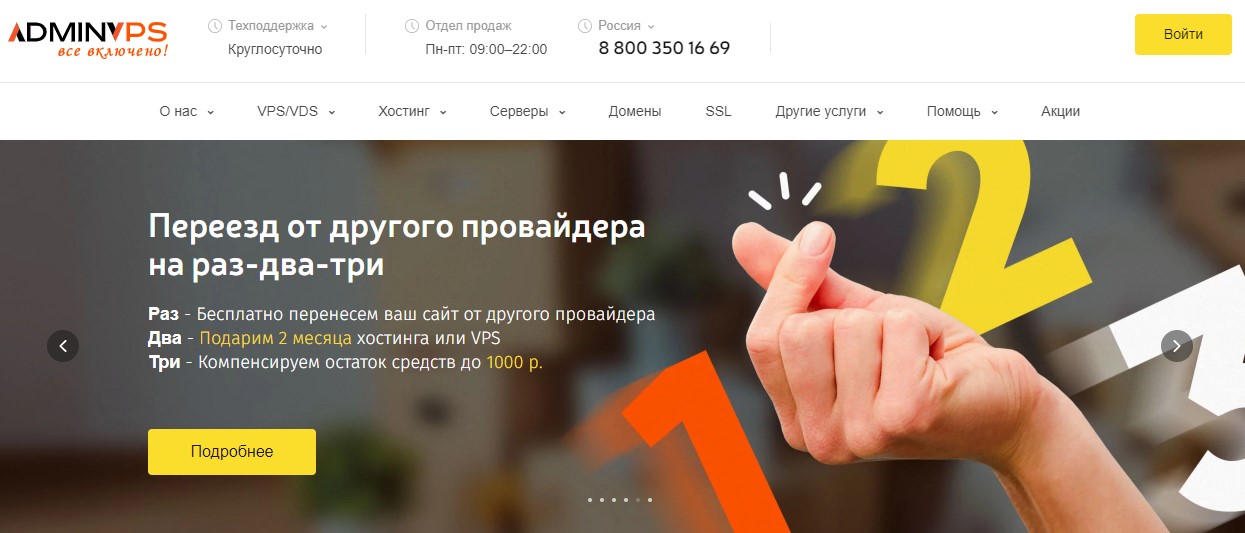 AdminVPS is a large Russian hosting provider that provides a full range of services necessary to launch and maintain a website. The company tries to solve all problems of users at once – you can register a domain, choose the hosting and take advantage of technical support without leaving the hosting site. Today in the review let's see how well AdminVPS copes with its tasks and whether you should consider this hosting company for your project.
Prices
AdminVPS offers shared hosting on servers located in Russia, Germany, the Netherlands and Belarus. Promo tariff with 2Gb of NVMe SSD-drive space for 1$/month is suitable for stable work of web-site or portfolio based on WordPress, Standart tariff with 10 sites support and 1Gb NVMe SSD for 3$ is suitable for medium resource or blog.
The big advantage of AdminVPS is a full unlimited traffic on all plans. Also, the hoster offers a free SSL-certificate Let's Encrypt, a basic server administration and daily backups.

Shared hosting
VPS / VDS
Windows VPS
Dedicated Server
Tariffs for 1C-Bitrix:
For all tariff plans:
DDoS protection
Daily backup
Unlimited traffic
Free SSL Let's Encrypt
VPS/VDS prices depend on your choice of data center location. The table shows the minimum cost of a virtual server for a particular location:
For all tariff plans VPS:
DDoS protection at L2-L4 level
KVM virtualization, on OpenVZ virtualization you can choose only VPS Lite and Promo (Russian location)
Backup up to 100GB
Free SSL Let's Encrypt
Windows VPS from AdminVPS has a number of advantages:
Windows license is already included in the price of the service! 2 terminal licenses included.
Price from 11.37$/m
Data center only Russia (Moscow)
Free Disk Backup for VPS
DDoS protection at L2-L4 level
For detailed Windows VPS configuration see on the hoster's website.

The company AdminVPS offers a dedicated server rental in Russia with the full range of services on the system "All inclusive". You get administration and control panel ISPmanager Lite with every server for free!
AdminVPS dedicated servers are located in Russia (Moscow), Germany, Netherlands, USA and Finland. For detailed configuration of dedicated servers see hoster's site.

If you choose VPS from AdminVPS, accommodation in data centers in USA, Russia, Netherlands, Germany and Belarus is available. There are also separate offers with KVM virtualization, VPS/VDS for Bitrix or hosting on Windows servers. At the same time the cost of any VPS/VDS Windows tariff includes two terminal license of Windows Server 2012, 2016 or 2019 at the customer's choice. The cost of VPS hosting on Windows for 1C or a small online office is from $20 per month.
For private tasks, the hoster offers webmasters budget servers in the VPS Lite tariff – for $1.3 users get VPS without control panel on Linux with 1 TB of traffic, 10 GB of disk space and a 3600 MHz processor.
CMS Support
The hoster has a very large rate schedule – on the site you can pick up an offer for any task or CMS. Of the popular systems for which there are separate rates AdminVPS – OpenCart, Bitrix and WordPress.
The characteristics of tariff plans for sites on different CMS do not differ in tariffs, but the difference is the performance. Sites with demanding CMS are installed on more powerful servers, which increases the stability and performance of the system. The advantage of the hoster is also considered the availability of profile tariffs for e-commerce projects:
VPS and hosting for online store is a specialized offer designed for websites with a large catalog of products and high traffic. The advantages of AdminVPS rates for online store are full support of PHP\MySQL, as well as increased disk space.
Online hosting for OpenCart – a solution for small businesses and small online stores, fully optimized for CMS OpenCart. Hosting for this CMS from AdminVPS assumes unlimited number of products and sections, as well as high speed of the site at a low load on the hosting servers.
Hosting for "1C-Bitrix: Site Management" – hosting on servers optimized for 1C-Bitrix. The system is installed on Enterprise SSD drives RAID10 class and provides several rates with flexible configuration settings for software.
In the hoster's service catalog, you can choose an offer for any e-commerce project. In this case, the use of NVMe SSD provides fast operation of the site, and the daily backup – data protection and comfort in the administration of the online store.
Bitrix24 licenses from AdminVPS (20% cashback)
The hosting provider is an official partner of Bitrix and sells licenses for both the box version and the cloud version of Bitrix24. You can order a license for a corporate portal without extra fees for reselling – the prices are the same as those listed on the developer's website. At the same time to the balance account AdminVPS returns up to 20% of the cost of a license Bitrix24, which can be spent on a domain name registration or choice of hosting for CRM and 1C.
Also AdminVPS experts offer services on implementation and technical support of Bitrix24. The cost of implementation starts at $210, an hour of programmer's work is estimated at $35.
Protection against DDoS attacks
AdminVPS – one of the few hosts, which offers built-in protection from DDoS attacks. All shared hosting, VPS and Dedicated plans have L2-L4 level protection, L7 protection is optional on servers located in the Russian data center. Traffic is filtered at the data center level, which protects all users from most threats during DDoS attacks L2-4. Protection is performed instantly – it does not slow down the speed of hosting and does not require the user's attention.
Additional services
Hosting provider positions itself as a company with a full cycle of services – the site AdminVPS voluminous list of additional proposals. Among the most popular are:
Sales of CMS licenses – the company sells licenses for "1C-Bitrix: Site Management", "Bitrix24: Corporate Portal", HostCMS, UMI.CMS, NetCat and Simpla. When purchasing a CMS license, web hosting users get a bonus in the form of a cashback to their account.
SSL certificate purchase – AdminVPS sells Sectigo entry level and business level certificates, as well as SSL with Wildcard to protect website subdomains. Certificates are available for individuals and companies.
Domain registration – the company is not accredited by ICANN and is a reseller of domain names, but you can register a domain in all popular zones (Top domain name registrars with accreditation).
Backup – transferring backups to a separate server in Relcom Data DC that meets SAS 70 and SSAE standards. You can back up a website, a virtual machine, a web application or a database. Online storage with FTP-access is also available for users of any hosting in the Netherlands.
Full DDoS protection – the service includes traffic filtering up to 100 Gbit/s and full protection against L7 attacks through WAF filter. To use the service you need to switch to a secure IP-address, but there are no restrictions on site traffic.
Admino Monitoring – controlling the availability of the site. The system checks correctness of the site operation and in case of access denial it automatically creates a ticket to the technical support and sends a notification to the client via Telegram. The maximum rate Admino Monitoring additionally includes checking of software vulnerability and disk state of the server, as well as CPU monitoring.
In addition, the company provides basic administration of VPS and dedicated servers, as well as performs custom settings and remote server administration via KVM or IPMI. The administration service is free for all users using the "All Inclusive" tariff plan. In other cases, the procedure is paid – $21 per hour of technician's work.
Where are AdminVPS servers located
The main data center is located in Moscow – Relcom Data, there is also an auxiliary data center for VPS/VDS in Saint-Petersburg – Selectel. Data-centers AdminVPS in Russia comply with the standards Tier 3 and support DDoS L7 level protection. In addition, the company offers hosting on foreign servers: you can order hosting in Germany, the Netherlands and Belarus, a dedicated physical server – additionally in the U.S. and Finland.
Uptime of AdminVPS servers is up to 99.98%, that is not more than 1.5 hours downtime during the year. Apart from high uptime, the hoster has a good performance – due to SSD NVMe and high performance CPUs to process an image 2000×2000 px takes no more than 2 seconds, and the average server can handle up to 750 requests per second. Ping at AdminVPS is from 35 to 56 ms in the European part of Russia – the difference is in the location of the nearest data center: in Moscow or St. Petersburg.
Hosting technical support
AdminVPS helpdesk works only through the system of tickets, which require full authorization in the personal cabinet. Response time for technical questions is about 15-30 minutes, most hosting problems are solved within an hour. Support works around the clock, but at night support is responding more slowly.
The hoster also has a hotline and online chat, where they are ready to advise on basic and financial issues. The possibility of technical support by phone, chat or video call AdminVPS is not provided.
The site hoster also has a large knowledge base, which are sorted out the answers to all common problems. Unlike most hosting companies, AdminVPS knowledge base is structured into categories, and there is a search system, which greatly simplifies the use of the directory.
Pros & Cons
Hosting for the site AdminVPS – a vivid example of quality service at the average market price. The company offers stable and reliable hosting, and does not impose restrictions on users with budget rates. A big advantage of the company – the availability of data center in Russia, as well as the ability to choose the servers deployed in Europe.
The advantages of hosting AdminVPS:
Use of high-speed NVMe SSDs on all servers of the hoster, which ensures fast operation of the site even with a large catalog of goods.
Ability to choose an optimized tariff for e-commerce or the most popular content management systems.
High uptime and low ping.
Free transfer of the site from another hosting and 7 days test period.
Built-in DDoS-attack protection at a basic level at all hosting rates.
Automatic backups.
The "All Inclusive" concept is optimal for launching small and medium-sized businesses, as well as long-term non-commercial projects. AdminVPS client can get the whole range of services without leaving the company's website – from choosing a CMS license and domain registration to implementing a corporate portal and server administration.
Also, the hoster has a loyalty program, which provides a return to the account up to 30% of the amount brought to the customer hosting, as well as a bonus of 500 rubles to pay for dedicated servers.
Cons of AdminVPS:
To consult through the site, you need to leave your contact information. In this case, the staff of the online chat are reluctant to answer, often ignoring the first message.
Contacting technical support is possible only through a ticket and after full authorization in the personal cabinet.
The "All-inclusive" concept does not imply an online constructor to build the site.
The company does not have ICANN accreditation – AdminVPS resells domains other registrar (Top domain name registrars with accreditation).
The company reserves the right to delete a virtual hosting account or VPS server on the 10th day, and a dedicated server – the next day after the overdue payment.
Refunds are available only for the main hosting service or VPS, the payment system commission of 10% of the refund amount is withheld.
In general, AdminVPS is the best choice for any web project. Reliable and quite fast service, offers a lot of bonuses for the use of additional services, which allows you to save on payments for the domain or renewal of hosting.
Contacts AdminVPS
Website: adminvps.ru
Company: ООО «Админвпс» – registered in Russia
Founded: 25.05.2015
Website Language: Russian
Support language: Russian
Central office:
country: Russia
city: 115280, Moscow
address: ul.Leninskaya Sloboda, d.19, 5-y etazh, komnata 21u (Ofisnyy tsentr «Delovoy»)
Contact Information:
phone: +7 495 155 25 31 Moscow, +7 812 628 25 31 Saint Petersburg, 8 800 350 16 69 Russia
email: sales@adminvps.ru, abuseto@adminvps.ru
Management:
Position: Director
Full name: Svirchev Oleg
Company's branches: no
Number of staff: 16 to100
Payments: more than 40 payment systems, including: Bank cards (Visa, MasterCard, American Express, Discover, Bank cards of Russia), PayPal, WebMoney, Google Pay.
Clients: More than 5000 customers, 70% of them – the owners of medium and large online stores with millions of visitors, for which is especially important speed and stable operation of sites.
The data are taken from public sources. The dieg.info project is not responsible for the accuracy of the published data.
Additional information
| | |
| --- | --- |
| Test period: | No, On request |
| Professional support CMS: | 1C-Bitrix, Drupal, Joomla, Magento, MODX, OpenCart, UMI.CMS, WordPress |
| Website Builder: | No |
| Price range: | $0.94 – 7 |