HideMy review
$5.00
➦ HideMy – no registration required. Ability to choose from 94 servers located in 68 cities in 43 countries, including Russia. 5 simultaneous connections. VPN rates: from 2$ to 8$/mo. Visit site ➦ Hidemy
Description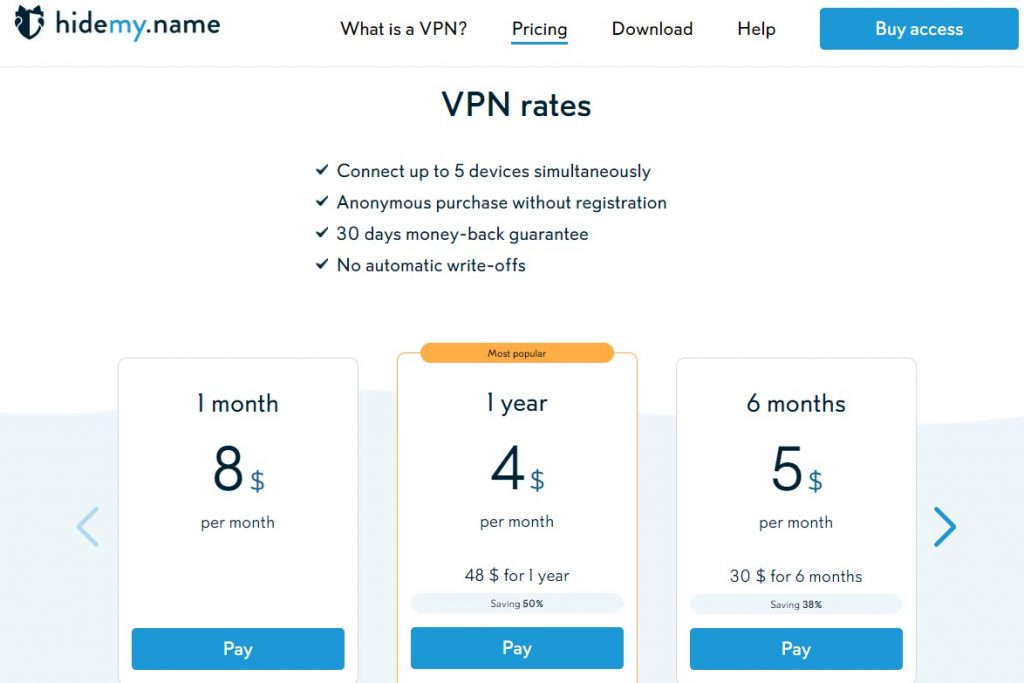 HideMy hides the user's real IP address and geo-position and ensures the security of Internet activity and communication regardless of the type of connection. The VPN service allows you to view content or content that is banned in your country or by your provider.
How to register? HideMy has no registration or personal account. We do not need your personal data and time wasted registering. A successful payment will result in an access code. It is through this code that you will gain access to the service. You can also add a "private IP address" as an additional option at the checkout stage.
How do I use the paid service? After receiving your code, download the app for your device: Windows, macOS, Android, iOS or set up your router.
Service features
KillSwitch connection protection. Protection against accidental detection of your real IP address when you disconnect from VPN.
4 connection protocols: OpenVPN TCP and UDP, L2TP, PPTP and can automatically select them.
Proxy list database – allows you to connect to resources without using a VPN. The proxy servers used by HideMy.name are checked daily for connection speed or latency issues.
Opening incoming ports. For example, to run a game server on your computer so that others can connect to it.
Port Scanner – checks open ports on the device you are using and shows what they are responsible for.
Internet Connection Speed Test – Automatically or manually checks servers for a comfortable connection.
No registration required, just give your email address where you'll receive a password to log in.
Access to PlayStation Network. Get full access to PSN and Xbox Live from your game console.
Connect for up to 5 devices.
Supported platforms
HideMy works on all modern platforms: macOS, Windows, iOS, Android, Linux, Router (Asus, TP-Link and others). There are detailed instructions for each platform on the website. Visit site ➦ Hidemy
Conclusion
The choice of different VPN, proxy options on the market is very wide, for brevity, our team has summarized all the significant or popular providers in one article TOP of the best VPNs, proxy services, for the best use of anti-detect browsers. In it, we divided providers into 3 categories: pure VPN solutions, Proxy solutions and hosting providers that provide a VPN or proxy in addition to hosting.