AstroProxy Review
$3.65
Resident and mobile proxies from $0.3 per month. Proxies are distributed by country, city and provider. Recharge in fiat and cryptocurrency, traffic packages (from 100 Mb) at low price from $0.37.
Description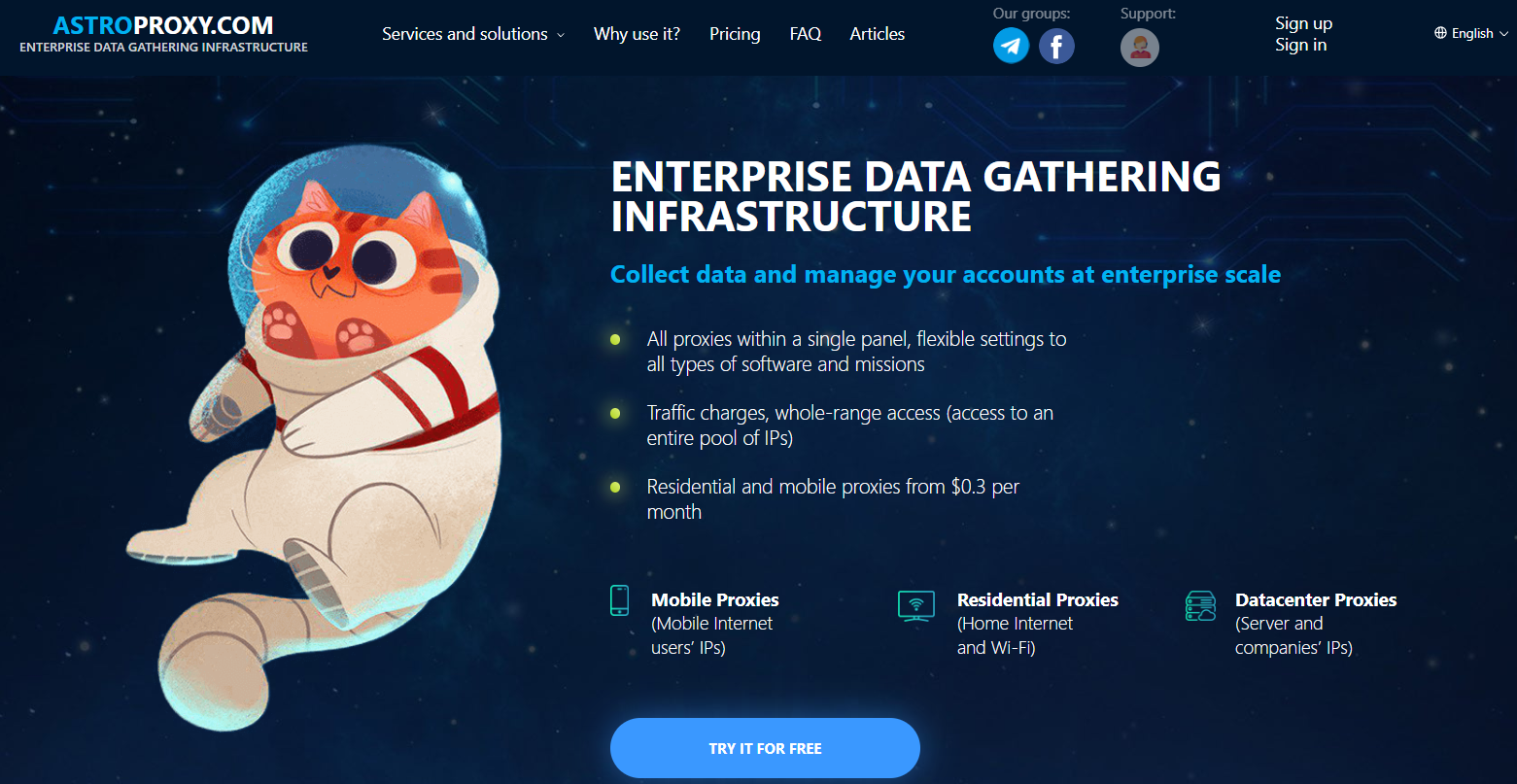 AstroProxy is a proxy rental service used by SEO-researchers, data analysts, programmers, marketers, arbitrageurs and many other specialists. The key to successful work with proxies is the use of specialised software such as anti-detection browsers. Astroproxy proxy network is a unique thing. The company has an excellent support service, high-performance proxy servers and everything you need for convenient and uninterrupted work. AstroProxy provides resident and mobile proxies in Turkey from $1.03 per month.
AstroProxy not only offers to buy server proxies from reliable providers in Europe, America, Asia (Softlayer, Rackspace and other proxy server sites). The best residential and mobile proxies are organized into clusters based on location type. It's not just geolocation. We are talking about data collection, traffic arbitrage, Internet marketing through proxies located in IP pools:
colleges,
corporate networks and business centers,
tourist places (airports, hotels, transport hubs).
Advantages of AstroProxy
Payment is made for traffic
Huge number of available locations
Compatible with any software
Free test
Convenient control panel
Fast technical support in messengers Telegram and Facebook
TCP/IP Fingerprint spoofing
Compatible with HTTP and SOCKS. Both protocols are supported by default.
The main product offered by AstroProxy service is white and clean resident proxies. That is, addresses provided to home internet providers. These addresses are highly trusted by the services and are blocked very rarely because blocking one such address may cause problems for other ISP users using that address. Astroproxy claims that the addresses are sold to them by home Internet users themselves. If this is true, these proxies can and should be used for the most demanding tasks, so the probability of banning or blocking will be minimised.
The next type is mobile proxies. The principle of operation is similar to the resident ones with the difference that mobile addresses are provided by mobile operators, not by your home Internet provider. Traffic from mobile proxies is the most expensive, but the efficiency is noticeably higher.
Server proxies. IP addresses in this case belong to data centres (ripe.net will help you). This is the most famous and popular type of proxy for bypassing white restrictions. Unscrupulous sellers do not have server proxies for a long time and they are quickly blocked. But in Astroproxy everything is different – addresses are regularly checked and tested by the system. Thus, only the highest quality and survivable addresses are included in the pool.
Tariffs for Mobile, Resident and Server Proxies
Astroproxy pays not for the period of proxy usage, but for the traffic passed through the proxy. This allows you to buy exactly as much traffic as you need. Users can optimise the operation of their software so that traffic is used minimally. Thus, with high quality and efficiency, Astroproxy proxies are also inexpensive compared to other proxy providers.
After a simple registration a new user will get access to the control panel. Since the launch of Astro it has changed significantly and contains all the necessary functionality for proxy management. The panel contains many different tools, but it doesn't seem complicated to use. On the control panel you can buy and upgrade ports, study traffic consumption statistics, bind proxies to a certain IP, change passwords and logins for proxies. You can also get a free test after registration. To do this, you can request support in any convenient way and together with the support team choose the best tariff, after which a certain amount of money for the test is credited to your account.
When selecting a port, the user can choose the type of port, location, traffic volume and other properties. Traffic tariffs are rather conditional (discounts are available when buying large volumes). Actual prices and GEO can be viewed in the panel when ordering. The minimum order price is from $2.5 per 1 GB. Up to 50 TCP connections per port are supported simultaneously.
What tariff should I choose for Facebook?
For advertising on Facebook you should use: resident proxies with mandatory grouping by city or mobile proxies with grouping by city and provider. A separate port should be created for each account. Also, you should specify a change of address on the link – it cannot be changed while the account is active.
Recommendations when working with Facebook:
Purchase traffic from 500 Mb per port or account. Set the change mode on the link, and specify a separate port for each account. Do not forget about the mandatory grouping by city.
"Warm up" the account before the adverts run. If you do not know what "warm up" is and how complex the algorithm is – think about working at the factory, there are vacancies there.
The IP address is blacklisted. Can I use it?
Blacklisting an IP address does not affect the work of resident and mobile proxies. Just understand the terminology, blacklists work only for server proxies. From experience, if you bought a VPS, you can remove it from the ban yourself.
How proxies work with anti-detection browsers
The key to successful work with proxies is the use of specialised software such as anti-detection browsers. Professional activities on the Internet are different from surfing the web or browsing memes on social networks.
Disadvantages or glory to God?
AstroProxy is not suitable for SMTP mailings – at the moment SMTP to proxy is closed. And thank goodness! Anyone who has tried to set up mailing at least once will understand me. It's better to buy clean proxies from AstroProxy than to be banned because of crooked spammers. Closing SMTP is really an advantage!
Conclusion
The choice of different VPN, proxy options on the market is very wide, for the sake of brevity our team brought all significant or popular providers into one article TOP Best VPN, Proxy Services for the best use of anti-detection browsers. In it, we have divided the providers into 3 categories: pure VPN solutions, Proxy solutions and hosting providers that provide VPN or proxy in addition to hosting. Search engines and websites restrict arbitrage, SEO, SMM, targeting and advertising professionals. The task of a professional is to bypass these restrictions for the sake of efficiency – individual proxies help in this. They mask the user and help to avoid account freezing or IP address blocking. However, even the best resident and mobile proxies cannot hide a user's fingerprint.
Contacts AstroProxy
Website: astroproxy.com
Company: Cyberzilla LLC registration Armenia
Founded: 2020
Website Language: English, Armenian, Ukrainian, Chinese, Russian, Russian
Support language: English, Armenian, Ukrainian, Russian Central office:
Republic of Armenia, Yerevan city Grigor Lusavorich street 9
Contact Information:
phone: No, just Telegram and Facebook Messenger.
email: support@astroproxy.com
Management:
Company's branches:
Number of staff:
Payments: Bank cards (Visa, MasterCard), QIWI, YooMoney, Russian bank cards MIR, Cryptocurrencies (USDT, DASH and many others)
Clients:
The data are taken from public sources. The dieg.info project is not responsible for the accuracy of the published data.