Review browser Undetectable
$0.00
Undetectable is an anti-detect browser with unique technologies and automation, provides a high level of anonymity on the Internet and helps you avoid being blocked and detected on websites. Free plan. Unlimited local profiles.
Description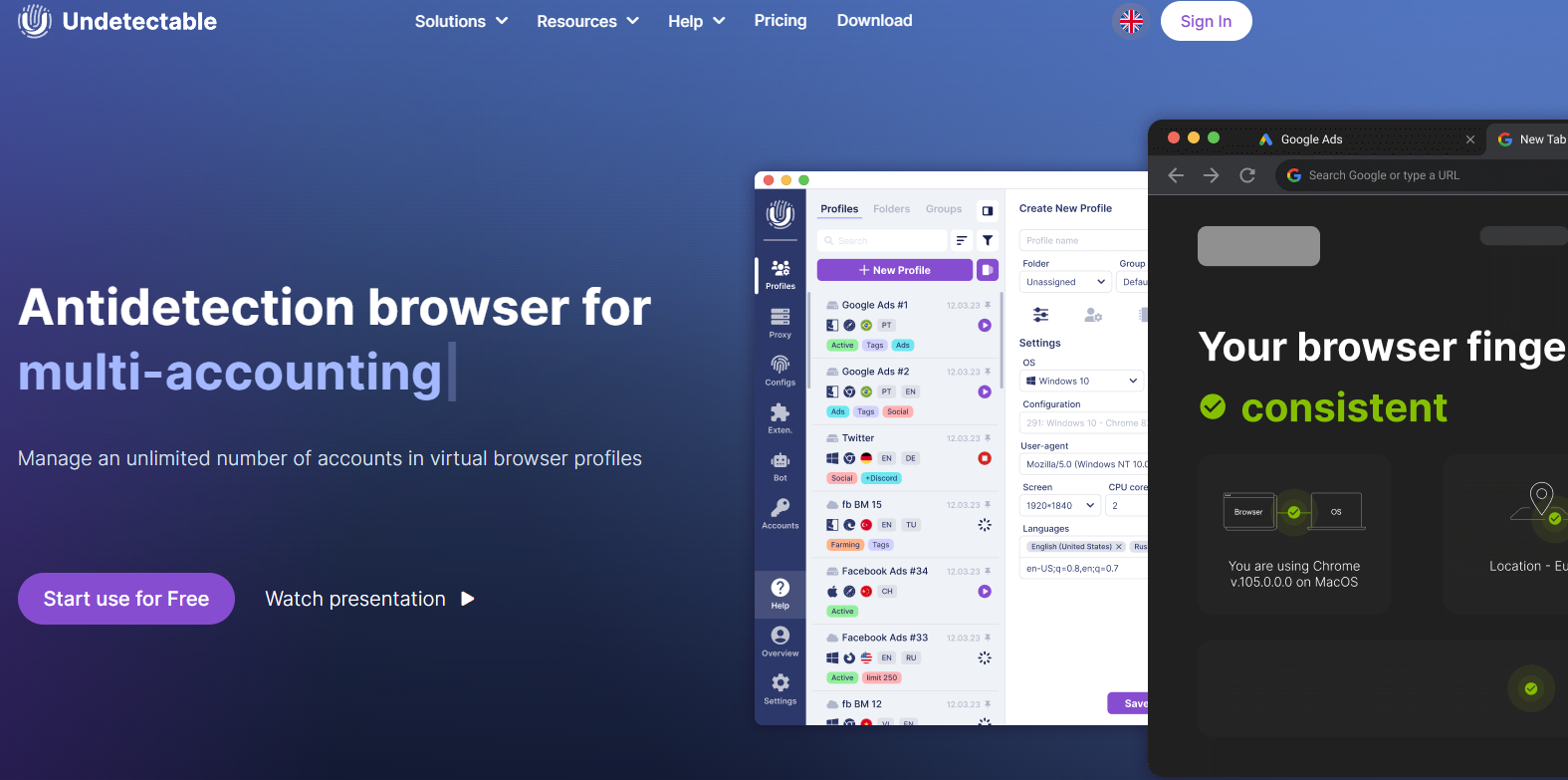 Undetectable is an anti-detect browser for secure business, and anonymous web surfing on the internet with multiple accounts across any platform. Developed on Chromium, it provides users with a set of tools to protect their privacy and automate their content. Undetectable is actively developing, adding to its functionality and expanding its features on a daily basis.
Regular and fast updates of the Chromium core to the latest versions. Anti-fraud systems evolve and adapt to new threats, which requires anti-detectable browsers to keep up with current changes and update regularly. In this arms race, using older versions of browser kernels immediately makes defence systems suspicious because when a new version of Chrome is released, it is updated almost instantly for hundreds of thousands of users around the world.
The browser is useful in the spheres of: traffic arbitrage, E-commerce, online betting, Bounty & Airdrop.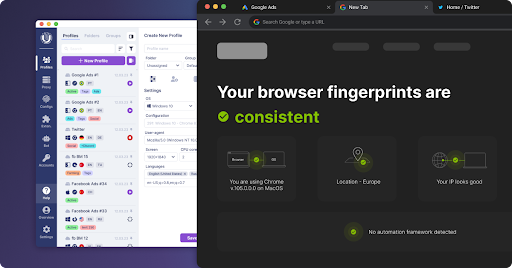 System requirements 4 GB RAM; 1 GB free hard drive space. Only 64-bit operating systems are supported. MacOS with M1 processor are supported. The browser has been tested on: Windows 10 and above; macOS High Sierra; macOS Catalina. Undetectable anti-detect browser can be downloaded both in your personal account after registration and from the home page of the official website.
🔥 Key advantages of Undetectable
Unlimited generation of browser profiles on any tariff. No restrictions on their number! Profiles based on the same configuration will be different, because at the moment of creation the part of parameters available for randomisation is additionally unique. Thus, a relative diversity of profiles is achieved, and for anti-fraud systems they look organic and do not stand out from other users. Free configurations are regularly updated more than 2 times a month.
Local storage of browser profiles without the need to synchronise with the server. Launch, delete, archive, rename profiles at any time.
✅Cookies-bot and popular sites generator. Microservice allows you to generate randomised lists of the most popular sites according to the selected geography. Generated lists can be used to warm up browser profiles (collecting cookies) through scripts or in programmes – cookie-bots. It is enough to open a cookie-bot, select the profiles, the required country and the number of sites to be visited by the robot. Proxying profiles has never been so easy!
Easy export and import of proxies, cookies and profiles. Undetectable supports session and proxy transfer in several popular formats. Including JSON format in the form of macros. Exporting profiles as files in Undetectable's special format is also available.
Instant launch and saving. Undetectable can load more than 5000 profiles in a couple of seconds. Supports bulk work with cloud and local profiles.
Group profiles by tags.
✅3 ways to store browser profiles. Store accounts locally on your device, in the cloud or on your own server (e.g. DigitalOcean ). Eliminate the security risks of third-party storage, especially when it comes to accounts and crypto-wallets.
✅Substitutions are Integrated into the Core. Fingerprint spoofing is performed within the browser's core, rather than using JavaScript, ensuring greater reliability compared to many existing products on the market.
Two browser kernels. The core is Chromium, with the ability to install extensions and manage them en masse! Supports devtools, site notifications and permissions, and other standard Chrome tools. WebEngine is the first kernel to appear in Undetectable. It doesn't support most Chrome features (extensions, etc.), APIs, but it can better pass site-specific checks. The developers decided to keep it, as variety is always better when it comes to multi-accounting issues.
✅ Mass profile creation. Create hundreds of unique profiles in a couple of clicks using configurations or lists of User-Agents, Cookies, or universal format (Name, Cookies, Proxy-type, Proxy, User-Agents, Notes).
✅Paste like a human. This feature emulates human behaviour when pasting text, creating a more realistic and natural browser experience. To do this, copy the text and right click on the desired field and then select "Paste like a human". The anti-detect browser will automatically adjust the speed and pauses when pasting text, making it more similar to natural user behaviour and less likely to detect automated actions.
Bulk installation of extensions. The Browser Extensions Manager allows you to add extensions to all Chromium core profiles at once, remove or deactivate them as needed.
More than 33 permission settings for teamwork. Splitting users into roles – an antidetect user with administrator rights can create a role and grant it a specific set of permissions and accesses. Profile grouping – the anonymous browser system allows to divide profiles into groups and give a user access to several of them. This enhances the ability to segment the rights of team members. Cloud web panel, through which the administrator can not only manage roles, groups and sessions, but also monitor the status of cloud profiles online.
✅Automation and APIs. With the help of specialised libraries such as: Puppeteer, Playwright, Selenium you have the opportunity to automate processes in Chromium browser using API via Chrome DevTools Protocol. Detailed documentation. API works with Chromium flags.
Convenience in work
Undetectable has a lot of nice little things that help a lot in your work, save memory and improve security. Some of them are:
Quick check of proxies in the general list of profiles;
Import bookmarks from any Chromium-based browsers;
Folders, cloud profiles, tags and their customisation;
Configuration usage frequency counter;
Configuration naming;
Updating the browser version in a profile;
Automatic clearing of unimportant profile cache on closing;
Disabling import of obsolete cookies;
Profile notes, saving them on the fly and copying them with one button.
Prices and how to customise tariffs
Unlimited local profiles from just $49. All paid plans allow you to create and use local profiles with no limit on their number. Since they are stored on your device, you don't waste time synchronising with servers, getting high fault tolerance in your work.
Within the framework of the free tariff, the user receives 5 cloud profiles, and the missing ones can be purchased. At the same time, the purchased profiles are summarised with those provided free of charge. In addition, the Free tariff includes ten digital prints, the relevance of which is updated several times a month.
Customisation of tariffs. Depending on the tariff, you can additionally purchase cloud profiles, users or configurations. Spend only on what you truly need. For example:
The Base subscription costs $49 and provides 1 user, 50 cloud profiles, 25 default configurations, and unlimited local profiles.
If the number of cloud profiles and configurations is acceptable, you can purchase an additional user for $10. As a result, you'll have 2 users for $59, instead of the $99 available only on the next Professional plan.
This way, you save $40 and can work with a small team. When working solo, you can avoid overpaying for features you don't use.
Detailed video instruction on how to use Undetectable Anti-Detect Browser
After installing the Undetectable browser, you need to enter the login and password from the web interface of the site, not the licence as stated in the video. You can find the administrator login and password from the cloud panel and the programme on the main page of your profile on the site.

You can register, download Undetectable and read more at the official on the official website.
Contacts Undetectable
Website: undetectable.io
Company: MOBICO SERVICES LTD – registered in Cyprus
Founded: 2021
Website Language: English, German, Russian, Vietnamese, Portuguese, Chinese
Support language: English, Russian
Central office: Prodromou, 75 ONEWORLD PARKVIEW HOUSE, 4th Floor 2063, Nicosia, Cyprus
Contact Information:
phone: communication via 24/7 Live chat on the website, Telegram, Facebook, Skype
email: support@undetectable.io, business@undetectable.io
Management:
Company's branches:
Number of staff:
Payments: Bank cards (Visa, MasterCard, Russian cards), Capitalist, a large selection of cryptocurrency and cryptocurrency gateways.
Clients: Over 50,000 customers worldwide. Undetectable Browser is one of the best solutions for effective traffic arbitrage in any affiliate niche.
The data are taken from public sources. The dieg.info project is not responsible for the accuracy of the published data.