Whoer VPN Review
$3.90
Anonymous Whoer VPN without restrictions and logs. Whoer VPN servers are located in 21 countries. Support for all platforms, devices and browsers. Whoer VPN's own DNS servers guarantee a secure and reliable game connection and no access restrictions based on geographical location. Be sure to test your browser for leaks and anonymity with Whoer. Price ranges from $3.90 to $9.90.
Description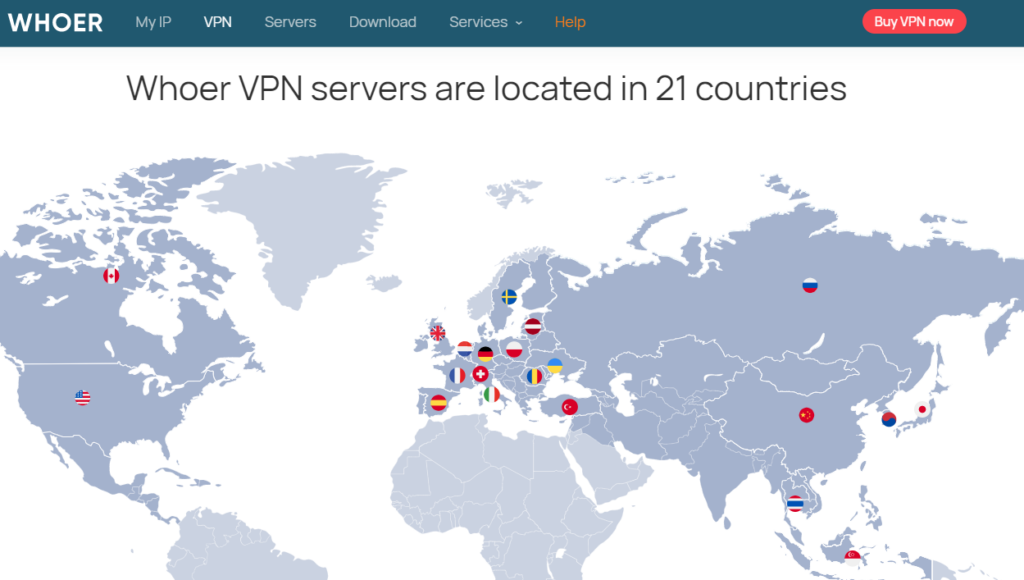 Do you work on the Internet or just read the news, look through the information on websites? Surely you have experienced the difficulties associated with blocking sites, certain content on the web. All this causes inconvenience. Yesterday Netflix was available to everyone, but now you might find that its geographic reach has shrunk. Worried about online anonymity? That's right too, because every day there are more cyber threats. All of the above problems are solved by using network anonymity service – Whoer VPN.
Price: $3.90 – $9.90
Supports all devices: browsers, routers, smartphones, Windows, Linux, MAC OS.
Connection protocols of your choice: OpenVPN, SoftEtherVPN, SSTP, L2TP
Torrent Support
Money Back Guarantee
VPN logs? No
Number of servers: Access to anonymous servers in 21 countries
No count of devices per license
DoubleVPN with OpenVPN included in all plans
Registered in: Cyprus
Whoer VPN offers its users a choice of the following VPN protocols: OpenVPN, L2TP, SSTP, SoftEther VPN.
10 Reasons to Choose a Whoer VPN
It is a virtual private network (VPN) service that allows users to ensure the security and privacy of Internet connections. A VPN connection hides your real IP address, encrypts your traffic and provides anonymity. It can be useful for those who want to bypass geographical restrictions, access blocked sites and services, and protect themselves from cyber criminals and unwanted intrusive advertising. Here are its most important features and functions:
Traffic encryption. The service uses strong AES-256 encryption, which guarantees traffic protection and prevents the theft of confidential information.
Server location. Offers solutions in more than 20 countries, allowing you to choose the best server for the best speed, availability.
Public network security. Keeps you safe on public Wi-Fi networks by blocking attacks against your traffic.
IP protection. Safely hide your real IP address, allowing you to use an anonymous IP in another country.
Content Unblocking. You will be able to regain access to blocked sites and services such as Netflix, Hulu, BBC.
Accessibility on different devices. Service supports multiple devices on Windows, Mac, Linux, Android, iOS and other platforms, and can also be used on multiple devices simultaneously.
Working with a torrent. Torrents are often blocked. If this is your case, you should definitely try the functionality of Whoer VPN.
Access to apps. Some apps from Play Market are blocked and unavailable to users. You can correct this injustice.
Secret messages. Your secret messages will stay that way. You won't lose your important information.
Solve everyday problems. Blocked by another social networking site? No problem! It's all solved by buying a VPN.
Equally important, Whoer VPN offers a secure DNS service to protect your private information, without keeping user logs. Whoer VPN's reliable and high-quality DNS servers ensure comfort during any online game and high connection speeds to the game server. Whoer VPN's own DNS servers guarantee safe and reliable game connection and no access restrictions based on geographical location. All these advantages we have created to improve your gaming experience.
How does it work?
From a technical point of view, the VPN is extremely complicated, but for the average user the principle of its operation is very simple and clear:
First of all, a DNS query is sent. This is how the user gets the IP address of the VPN server.
Next, the secret keys are generated. The VPN network needs them for its further correct work.
A secure connection channel is created with the help of these secret keys.
The final step is data encryption. All user data transmitted over the secure channel will be encrypted by VPN network protocols.
Fast connection protocols OpenVPN, SoftEtherVPN, SSTP, L2TP, which makes this service really unique. No restrictions on traffic and speed. Over 1 million clients have already experienced the reliability and quality of the proposed VPN and become our regular customers. This is a serious indicator!
Comparison with other services
There are also a few similar services that offer users conditions for anonymity online. One of them is Namecheap VPN. So between them there are many common features, including protection from DNS leakage, support for OpenVPN and IKEv2 protocols.
But there are also differences. For example, Namecheap VPN does not provide its services to citizens of the Russian Federation, while Whoer VPN does not imply such restrictions.
Another common solution among users is FORNEX VPN. But the servers are only available in 13 countries. The Whoer service offers many more locations. This means that each client can choose a server in the country that is closer and optimal in the context of current tasks.
Also, users often choose Surfshark, but the geography of the service is very limited – Japan, Singapore, Germany, USA and Britain. Switch to Turbo VPN? It is free for only one device, and the maximum number allowed is 5. By the number of servers and countries is second only to NordVPN and HideMy. The services are compared in more detail in the article 3 Best VPN and Proxy Services.
Conclusion
In many ways, Whoer VPN is far ahead of similar network anonymity services. Save up to 60% by ordering the service at once for a year.