PrivateAlps Hosting (Fully Dmca Ignored)
$13.80
PrivateAlps is a premium hosting service focused on privacy. Services: servers with disk encryption (your data is protected). Offshore hosting in Switzerland – completely ignores DMCA. Abusive hosting. ChatGPT is available. Lifetime 10% discount on the first ordered service (Lifehack: order several services at once!!!) when registering a new client.
Description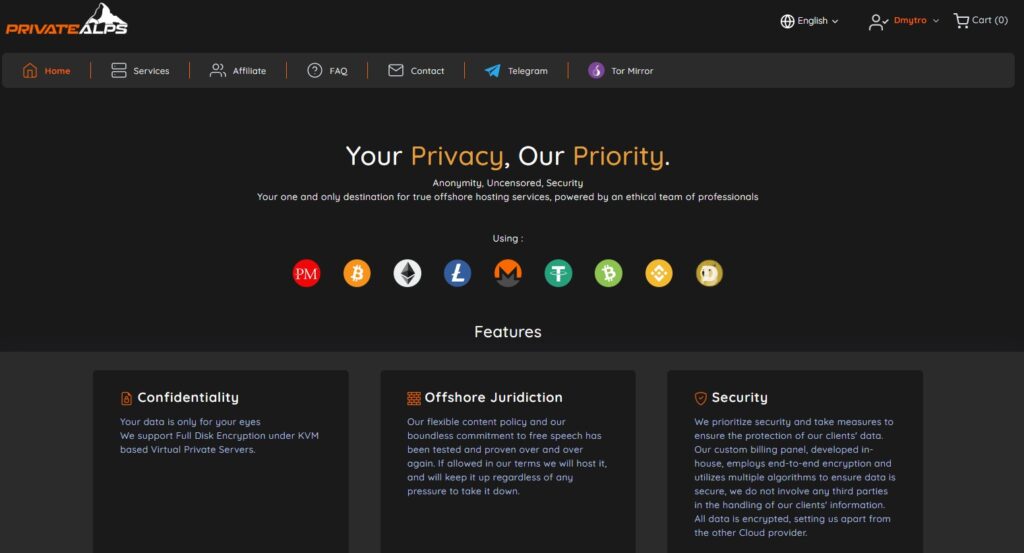 Jurisdiction based in Switzerland: Switzerland's strict privacy laws make it the ideal choice for individuals and companies in need of data protection.
PrivateAlps Services
All equipment is located in Switzerland. DMCA is completely ignored on all plans except shared hosting. KVM and VNC are available for use on both HP dedicated servers and virtual servers.
Cloud Backup Service: As part of this service, you will need to specify what data you need to copy. If you need this information, you will be provided with a copy.
Linux Virtual Server (KVM): Completely ignored by Dmca. 1 dedicated IPv4 address, Full disk encryption available. Nested virtualization support (Nested virtualization). Free DDoS protection service. Reinstall the OS at any time. Dedicated CPU and RAM resources. ➡️ See pricing
Windows Virtual Server (KVM): Free license is installed by default, but you can purchase a Windows license.
Virtual hosting: No domain, you have to buy it yourself. Cpanel (PHP versions can be switched). Free Let's Encrypt SSL Certificates (HTTPS). Free basic DDoS protection service. Application installer for popular software available. ➡️ See pricing
Tor Hosting: Allows you to host your sites on the Tor network. Manage everything through aaPanel control panel interface and a unique .onion domain. Fully anonymous access via Tor.
Linux VPS NVMe. Ultra fast VPS with NVME disk for optimal performance, provides exceptional performance for your website or application. Price from 15 € / month.
VPN service for only 5 € / month: 1.5 Gbps speed, DNSCrypt and TOR support, P2P allowed (DMCA ignored), no VPN usage logs. Read below how to use PrivateAlps VPN.
Mid End Servers. Price from 130 €/month.
High End Servers. Price from 299 € / month.
Streaming Servers. Price from 250 € / month.
Raised End Servers. Price from 559 € / month
40GBPS Servers. Price from 3699 € / month.
100GBPS Servers. Price 8999 € / month
Linux Storage VPS. SAN disk size [GB]: 5000GB. Bandwidth limit [TB] : 20 TB. IPv4 addresses: 1. Price : 65 € / month
How to order and use PrivateAlps VPN
Characteristics of VPN from PrivateAlps: Price 5 € / month. 10G SFP+ 10G shared port limited to 1.5 Gbps. Support for DNSCrypt to encrypt DNS traffic, TOR networks, Stunnel and Obfsproxy to bypass firewalls.
➡️ After ordering VPN, you receive a letter with accesses (important! these accesses are not stored anywhere else, not even in your personal cabinet). The letter contains login and password, as well as a link to the archive with two configuration files (Important! the link to the archive is available only for 24 hours). There are 2 .ovpn files in the archive, i.e. standard OpenVPN client connection files. What is the difference between these 2 files, you may ask, they differ only in their support of UDP or TCP protocols. The file whose name includes the word "Wire" is configured to support UDP. The UDP protocol is faster, so use it.
As standard, import the configuration file into your OpenVPN client. After clicking the connect button, you will be prompted to enter your username and password from the email. You will be allocated a permanent VPN IP, which is defined as Zurich Switzerland.
Minuses of the VPN. You will not be able to install this VPN on the router. As it requires login and password when connecting. I tested on the router Keenetic Sprinter (KN-3710) with the latest firmware
3.9.8 to connect failed, because the router does not support login and password, and supports in the OpenVPN client access only by key.
If you have any problems or questions, please feel free to contact PrivateAlps tech support via the ticket system in your personal cabinet.
How to order and use Tor Hosting
Characteristics of Tor Hidden Hosting: unlimited traffic, management via aaPanel hosting control panel. The number of domain names in the .onion zone depends on the selected tariff. Fully anonymous access via Tor.
For testing I ordered aaPanel with Nginx. In my opinion Nginx + PHP-FPM is the optimal choice for sites based on popular CMS WordPress, DLE. ➡️ After ordering the service TOR Hosting, you get a letter with access to the mail. And if you are a beginner, then you realize that something is wrong:) You will not be able to use these accesses if you have not installed TOR browser. To get access to the purchased hosting, you can only through the Tor browser.
Get used to using software safely! In the case of the Tor browser, you run a reliable VPN first and then the Tor browser, so that your home ISP doesn't see that you are using TOR networks. In our case, using a VPN is optional.
So, installed and started the TOR browser. There are 2 onion links in the email: one is your domain for the site, the other is a link to access aaPanel. Next step you need to add the domain you got as a new website to aaPanel without pressing ssl. Now you can use the domain for your website, what's left is to upload the files or install WordPress. Here I will not describe how to use aaPanel, everything is intuitive there. Done!
If you carefully read the email with accesses, they also sent you a Root password. But it doesn't work, when you try to use it, you see some strange signs.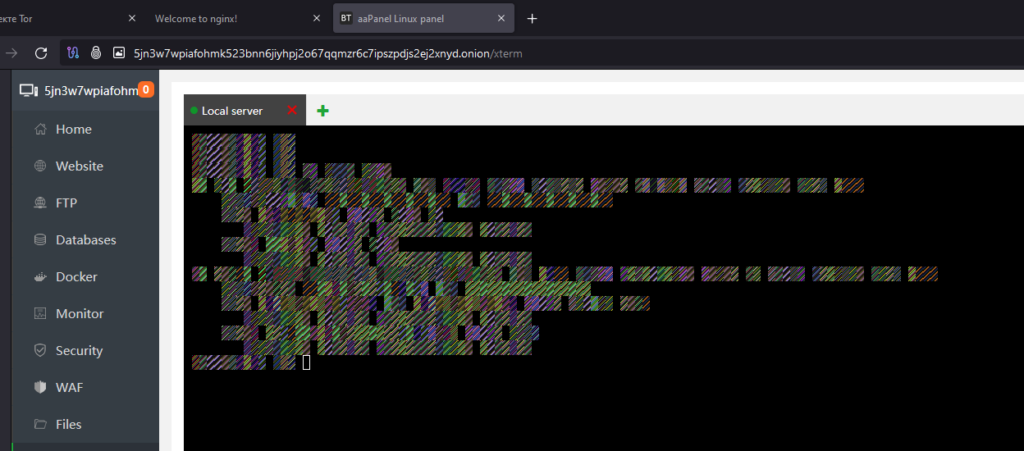 This display is due to the security settings of the Tor browser itself. To make the terminal output correct, you need to click the image logo in the address bar of the Tor browser and click "Allow". Tor will display the text in the normal mode.
Contacts PrivateAlps
Website: privatealps.net
Company: PrivateAlps Switzerland
Founded: 2019
Website Language: English, Chinese, Ukrainian, German, Spanish, Italian, Russian
Support language: English
Central office:
Contact Information:
phone: no, communication only via Telegram
email: form on the site
social networks: Telegram.
Management:
Company's branches: no
Number of staff:
Payments: Bitcoin, Litecoin, Ethereum, Monero, PerfectMoney, if you want to pay in other cryptocurrencies, please contact the administrator from the support section of the site.
Clients:
The data are taken from public sources. The dieg.info project is not responsible for the accuracy of the published data.
Additional information
| | |
| --- | --- |
| Status: | Bulletproof |
| Data center: | |
| Test period: | No |
| IPv6 support | Yes |