RAKsmart Review
$3.00
RAKsmart offers dedicated servers, VPS, cloud in Japan, Korea, Singapore, China and USA (in three data centers).
Description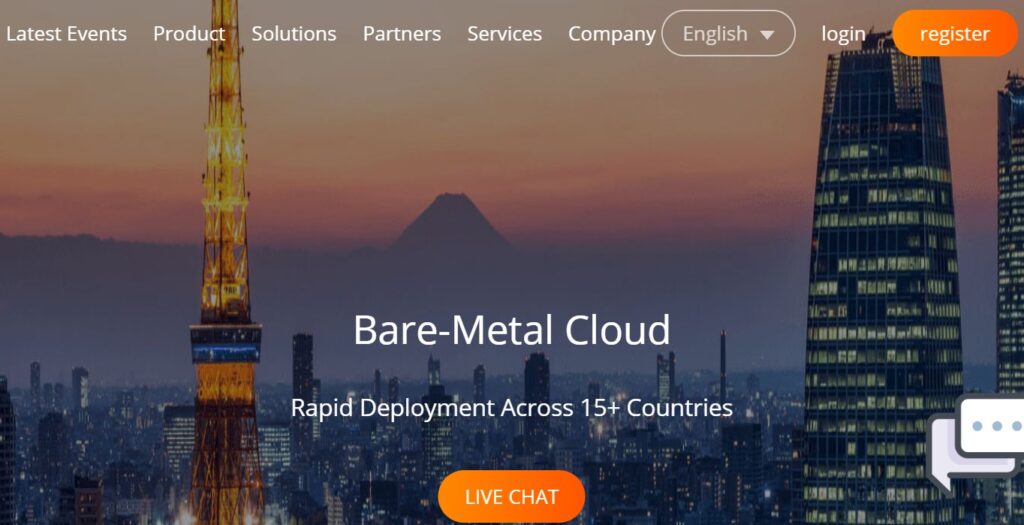 RAKsmart Hosting is a company that provides hosting and other related services to customers all over the world. The company offers various hosting options, including cloud hosting, dedicated servers as well as their virtual versions.
Who uses RAKsmart hosting services?
RAKsmart may be of interest to a wide audience, including businessmen who are planning to open a business in Korea, Japan or China. This hosting has data centers in these regions, which allows for high download speeds and reliability for customers located in that region. In addition, RAKsmart may be of interest to any customer looking for reliable and fast hosting with high availability rates.
Where RAKsmart servers are located
1Tbps+ protection against DDoS attacks. Data Centres (Tier 3 standard) with RAKsmart servers are located on the west coast of the USA and key hubs in Asia:
USA: Portland, San Jose (Silicon Valley), Los Angeles)
South Korea: Seoul
Japan: Tokyo
Singapore:
China: Hong Kong
Raksmart VPS services and prices
Raksmart launches its flagship product Raksmart VPS, providing high quality and affordable virtual private server solutions priced from just $0.99. With the launch of Raksmart VPS, Raksmart sets a new standard for VPS hosting. It combines high-quality service with affordability, challenging the status quo in the industry. This offering is particularly interesting for startups and small businesses, who can now access top-tier VPS hosting at a fraction of traditional costs.
The site offers a variety of hosting plans and prices may vary depending on the plan chosen. The company also offers discounts for long term use and for new customers.
Cloud hosting prices start from $5 per month, virtual dedicated servers (VPS) from $3 per month, and dedicated servers from $99 per month. Prices for security services such as Sitelock and Anti-DDoS depend on the plan chosen and the level of protection required.
RAKsmart gives a quality guarantee for its services. The company ensures reliability and high availability of its servers, which makes it one of the best hosting companies. In addition, RAKsmart provides a money back guarantee within the first 30 days of using the services if the customer is not satisfied with the quality of services.
RAKsmart offers a variety of services, including:
Cloud Hosting. Cloud solutions with high availability and security. Customers have the ability to choose between different plans depending on their needs. Cloud hosting plans include a variety of features such as automatic backups, free SSL certificate and others.
VPS hosting. Virtual servers based on KVM technology. Customers can choose between different plans depending on their needs. VPS hosting plans include features such as SSH access to the server, a free SSL certificate, and more.
Dedicated servers. RAKsmart provides dedicated servers with different parameters and characteristics to meet the needs of customers. Customers can choose between different plans depending on their needs.
Sitelock is a security service that RAKsmart provides to its customers. It is a tool that helps protect websites from hacking, viruses, intruders and other security threats. Sitelock provides various functions to protect the site, including scanning for viruses, SQL injections and similar "pests". The system presents detailed statistics and reports on site security to its client, which can be useful for analyzing vulnerabilities and preventing possible attacks.
Anti-DoS L3-L7. The site also has this system to help protect the site from DDoS attacks. It includes network, application, and protocol level protection, as well as denial of service (DoS) and distributed denial of service (DDoS) protection.
Data backups. Users have the option of backing up data on the server. This can be very important for customers who want to save important information and protect themselves from data loss in case of server failure or other unforeseen circumstances. Any user has the ability to restore data from a backup at any time. This can be very useful for clients who have accidentally deleted important files or lost access to data on their server.
How to order VPS from RAKsmart
It is easy, in menu "Order Hosting" choose required service, for example classic VPS/VDS will be in menu "Public Cloud" (it is shown on screenshot). First choose location, e.g. Silicon Valley in USA, internet quality, below configuration and additional features, for example I chose DDOS protection 10GB for only 2$/month.
Customer support
RAKsmart provides 24×7 support related to your physical or virtual servers, but only up to the operating system level. RAKsmart does not touch or offer technical support for anything above the operating system level (e.g. applications or data on your server). The host offers support via email, phone line and chat, making it available to users at any hour of the day or night.
RAKsmart provides support in different languages: English, Chinese, Korean and Japanese, so it is of interest to customers from all over the world.
Conclusion
RAKsmart is a high-quality hosting company in Asia and the United States that provides a wide range of services for customers looking for reliable and secure hosting for their business or personal needs. The company has many positive reviews from customers who appreciate the quality of service and high level of support.
So, if you are looking for a reliable and secure hosting company that offers a wide range of services and a high level of customer support, then RAKsmart might be the perfect choice for you.
Contacts RAKsmart
Website: raksmart.com
Company: RAKsmart – registered in the USA
Founded: 2000
Website Language: English, Chinese
Support language: English, Chinese
Central office:
55 S Market St Ste 320, San Jose, California, 95113, United States
Contact Information:
Management:
Company's branches:
Number of staff: 25+
Payments: Bank cards (Visa, MasterCard), PayPal, UnionPay, BitPay (cryptocurrency payments), AliPay.
Clients: Raksmart is an innovative digital solutions provider specialising in VPS hosting services. Their commitment to quality, affordability and customer satisfaction sets them apart from similar solutions.
The data are taken from public sources. The dieg.info project is not responsible for the accuracy of the published data.
Additional information
| | |
| --- | --- |
| Data center: | |
| IPv6 support | Yes |
| VPS lowest price (payment per year): $ | 8 |