Review Hosting S-Host
$3.08
S-Host offers clear tariffs with cheap prices (no hidden fees) – optimal for everyone who does not want to bother with the comparison of tariff plans and the selection of hosting capacity for your site. The best loyalty program among hosting providers – savings up to 25%! We recommend PRO-start plan with guaranteed CPU, RAM and panels cPanel, BrainyCP, ISPmanager.
Description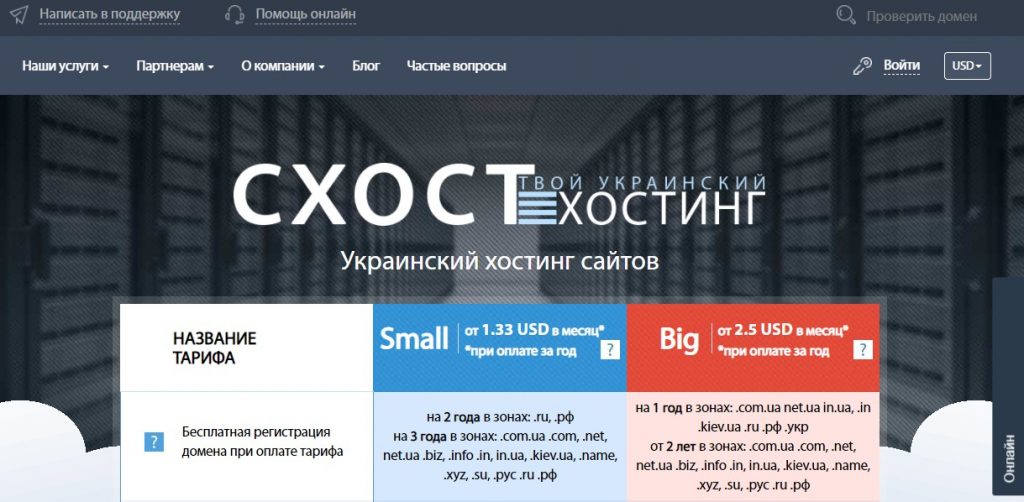 S-host.com.ua is a Ukrainian hosting provider with inexpensive tariffs and reseller domain registrar without ICANN accreditation.
Marketing campaign of the hoster is aimed at demonstrating the best value for money – the company often refers to the availability of modern data centers in Ukraine and the Netherlands, as well as the flexibility of tariff plans. Now let's see how good the provider is and whether it is worth to use the services of S-HOST.
Prices
S-HOST tariff plans have no hidden fees, and the pricing policy is lower than that of the provider's direct competitors. To support a website or an online store based on WordPress, the "Pro-Start" plan is optimal for $7.5 per month. The tariff assumes the power of 2 processor e5-2650v2 threads, as much as 10 Gb of RAM, 200 Gb of SSD space and high uptime. The tariff includes spam protection and support for SSL-certificates. After ordering a PRO hosting service, shared hosting is available immediately, without any delay for deployment. The received host account must be paid for within seven days. Otherwise it will be blocked automatically after expiration of the test period. It is unblocked immediately after payment. Backups are made to a remote server!

Shared hosting, PRO-hosting
VPS / VDS
Windows VPS with license
Dedicated Server
«Small»: Price 1.33$/mon. | Sites: 5 | SSD 5 Gb| Databases: ∞| Control Panel: cPanel, BrainyCP, ISPmanager | Details
«Big»: Price 2.5$/mon. | Sites: 30 | SSD 15 Gb| Databases: ∞| Control Panel: cPanel, BrainyCP, ISPmanager | Details
"PRO-hosting" – hosting for sites with high load (Guaranteed CPU resources, Guaranteed RAM resources):
«PRO-start»: Price 7.5$/mon. | Sites: ∞ | SSD 200 Gb| Databases: ∞| Control Panel: cPanel, BrainyCP, ISPmanager | Details
«PRO-max»: Price 18.33$/mon. | Sites: ∞ | SSD 500 Gb| Databases: ∞| Control Panel: cPanel, BrainyCP, ISPmanager | Details
For all tariff plans:
Testing for 7 days FREE
Automatic backups every Saturday and on the 1st and 15th of the month
Unlimited mailboxes (SPF + DKIM)
Unlimited traffic
Unlimited number of databases
Data center Ukraine, Netherlands (optional)
VPS/VDS with dedicated drives (currently the fastest, most convenient and, most importantly, cheapest alternative to a dedicated server):
For all tariff plans VPS:
Connecting to 1 Gbit port
Data center Ukraine, Netherlands (optional)
VNC for constant control over the server
start-stop-start-reboot-reinstall VPS from the control panel
Assistance in the initial setup of all services and software
Windows VPS from S-host has a number of advantages:
Windows license is already included in the price of the service!
Price from 13.17$/m
Data center Ukraine, Netherlands (optional)
Guaranteed resources
Large amount of disk space
For detailed Windows VPS configuration see on the hoster's website.

Dedicated server from S-host has a number of advantages:
1 Gbit port and unlimited traffic
Protection against DDOS attacks
24/7 support and assistance
Working with high loads
Large amount of disk space
Ability to work quickly with mass mailings
Dedicated servers are located in the Netherlands, detailed configuration see host site.

All shared hosting plans have a free trial period of 7 days. The provider does not impose additional restrictions on capacity, the number of FTP-accounts or databases, as well as the amount of traffic. Also, the hoster has a moneyback – the refund is made in full and applies to all services, except for domain registration and physical server rent.
When you connect virtual web hosting, you can install a choice of control panels cPanel, BrainyCP and ISPmanager. For dedicated and VPS, you can install a free panel BrainyCP, a paid ISP Manager or installation without a panel (you can install any panel yourself).
Professional support CMS WordPress, Drupal and Joomla
The hosting provider provides profile rates for popular content management systems. There are no special differences between the rates for CMS WordPress, Drupal and Joomla – the hosting meets the basic requirements of the engines with reserve.
The hoster offers a choice of two options with 5 and 15 Gb of disk space and support for 5 or 30 domains. The cost of the junior plan Small is $ 1.49 per month of use, the senior Big – from $ 3. A separate advantage is considered the presence of auto-installer Softaculous, allowing you to download any CMS in a couple of clicks from the control panel hosting.
Loyalty Program
S-HOST offers a loyalty program for regular customers, which allows them to save a lot of money on service. There are 5 partnership statuses, which differ in terms of annual turnover and number of connected accounts.
To get the gold level of partnership with S-HOST, you need to order services for $140 per year. This will get you 15% discount on shared hosting for the site, 10% discount on PRO rates and 6% discount on VPS hosting. Discounts for the loyalty program for Dedicated server or VPS with a dedicated drive are minimal and amount to no more than 1%. At the same time, if you actively use the hoster's services, you do not need to do anything else to get a discount.
For example, to get a gold status with S-HOST it is enough to pay PRO-max tariff for 1 year. This is beneficial if you choose the hosting for long-term projects. If you have the maximum partner status, the company offers a 25% discount for shared web hosting, a 20% discount for PRO-hosting and a 10% discount for VPS. All loyalty program discounts are combined with promo codes and promotional offers. Read more about the loyalty program on the website of the hosting provider.
Where S-HOST servers are located
The company has two large data centers of TIER-3 class, which are located in Ukraine and the Netherlands. Moreover, the hoster offers the ability to choose a data center when you connect a new tariff, which is rare among competitors. Let us consider the features of S-HOST data centers:
"United DC" in Kyiv – 1+1 MW capacity, 2 uninterruptible power supplies. Works with UA-IX, DTEL-IX, Cloud-IX and DataIX networks for traffic exchange.
"Serverius" in the Netherlands – a "cold aisle" system and power supply with up to 4x32Amp capacity per server cabinet. Several redundant power supplies and a modern fire extinguishing system.
Uptime for the last year is 99.97%, and the presence of a data center in Ukraine minimizes ping – the average traffic delay is no more than 21 ms to Moscow. It takes no more than 3 seconds to process a 2000×2000 px image, and the provider's servers can handle up to 870 requests per second. The host does not provide protection against DDOS attacks, but uses the Web Application Firewall for protection.
Hosting tech support
You can contact the technical support of the hoster via email, a ticket, internal chat on the website or Skype. To get quick answers on technical questions, it is better to write to the ticket from your personal cabinet. Online chat, email and Skype are not official communication channels with the support team.
The main working hours of the support team is from 10:00 to 21:00, at night you can get an answer only to basic questions via email with a delay of several hours. During the day, support responds to requests within 3-5 minutes and gives fairly detailed answers. Requests received through online chat and Skype are processed on weekdays from 09:00 to 01:00 and on weekends – from 10:00 to midnight.
The knowledge base at the hoster is designed in the format of a blog, which gives instructions on how to solve typical issues. There is also a site with private questions, including the peculiarities of registration and payment for hosting services.
Pros & Cons
Hoster offers good service conditions for customers, with a long list of both pluses and minuses. Let's look at the main advantages of S-HOST:
Advantageous rates for hosting and VPS, and balanced rates for websites and e-commerce sites.
Low ping in Ukraine, Russia and Europe due to the close location of one of the data centers – "United DC" in Kiev and the second in the Netherlands.
Automatic backups are not counted in the total disk space hosting.
Free transfer of up to 3 sites from another hosting after the test period.
Basic administration of the dedicated servers is performed free of charge by hosting specialists.
S-HOST does not have a separate offer for online stores, but this is compensated by the presence of the Pro-tariff. Also, the hoster does not offer users a website builder, but provides for quick deployment of the resource with the help of auto-installer CMS Softaculous.
Cons of S-HOST:
Automatic backups are created once every 2 weeks, and the hoster saves only the latest version of the site.
S-HOST does not sell SSL certificates. To switch to HTTPS you have to install your own certificate or use the free Let's Encrypt in the control panel.
There are errors and contradictions on the website and in the knowledge base of the hoster – all information must be checked with the support team or in the online chat.
S-HOST services are optimal for everyone who does not want to bother with comparing service plans and choosing the hosting capacity for their website. Hoster offers balanced rates at an affordable price, but is not able to interest users in additional services. S-HOST is a lack of ICANN accreditation and website builder, but high performance and discounts on the loyalty program. It is the choice for those who need convenient and reliable hosting without overpayments.
Contacts СХОСТ
Website: s-host.com.ua
Company: "Shneider Єwgen Oleksandrovych" is registered in Ukraine
Founded: 2015
Website Language: Russian
Support language: Russian, Ukrainian
Central office:
country: Ukraine
city: 04050, Kyiv
address: street Kravchenko 22
Contact Information:
phone: online chat from 10 to 21 Kiev time
email: support@s-host.com.ua
social networks: Twitter.
Management:
Position: Chief Executive Officer
Full name: Shneider Єwgen
Company's branches: no
Number of staff:
Payments: Bank cards (Visa, MasterCard), WebMoney, Privat24, payment terminals, Euroset, Qiwi, ЮMoney, PerfectMoney.
Clients:
The data are taken from public sources. The dieg.info project is not responsible for the accuracy of the published data.
Additional information
| | |
| --- | --- |
| Data center: | |
| Test period: | 7 days |
| Professional support CMS: | Drupal, Joomla, WordPress |
| Status: | PRO |
| Website Builder: | No |
| IPv6 support | No |