Website Builder SendPulse
The modern SendPulse webpage builder extends the capabilities of the service by simply creating a website. Create a page and promote it through chatbots in messengers (Telegram, Facebook, Vkontakte, WhatsApp), email, Push and SMS – all on one platform! Connect payment systems, analytics, Push service in one click. With the SendPulse mini-branding editor you can create a working single-page website for free. Newbie? Sign up and get a $10 gift!
Description
Service SendPulse is not only mailing, SMS and Push mailing, not only a simple creation of chat-bots in Telegram, Facebook Messenger, WhatsApp and VKontakte, but now it is also a modern page page designer.
SendPulse Website Designer distinguishes itself from its competitors by its modernity, simplicity and it is available for all tariffs, including free ones. With the SendPulse mini-branding editor you can create a simple working single-page site for free.
What is a multi-link website
Landing – multilink – is a one-page site with which you can promote your brand, services, products in social networks. It is often used for promotion in Instagram – a link to it is placed in the header of the profile. By clicking on the multilink, the user opens a mini landing page with information about you, contacts and communication channels. It's useful to add an email or SMS subscription form and a widget for subscribing to chatbots in various messengers to such a page. With multilinks, you provide all the information about your product or service, and give the user the ability to choose a channel for communicating with you. Sign up with SendPulse and create a multilink in the webpage builder.
The designer of the landing pages is located in the "Sites" section. The visual editor works on the principle of clicking on an element and dragging it to the desired location of your future site. All the elements that can be dragged to the mini-banding are located on the left. The layout of the mini landing page is displayed in the middle. Each element you drag onto the layout is customized in the menu on the right. Read the detailed instructions on how to create a mini-site in the SendPulse editor.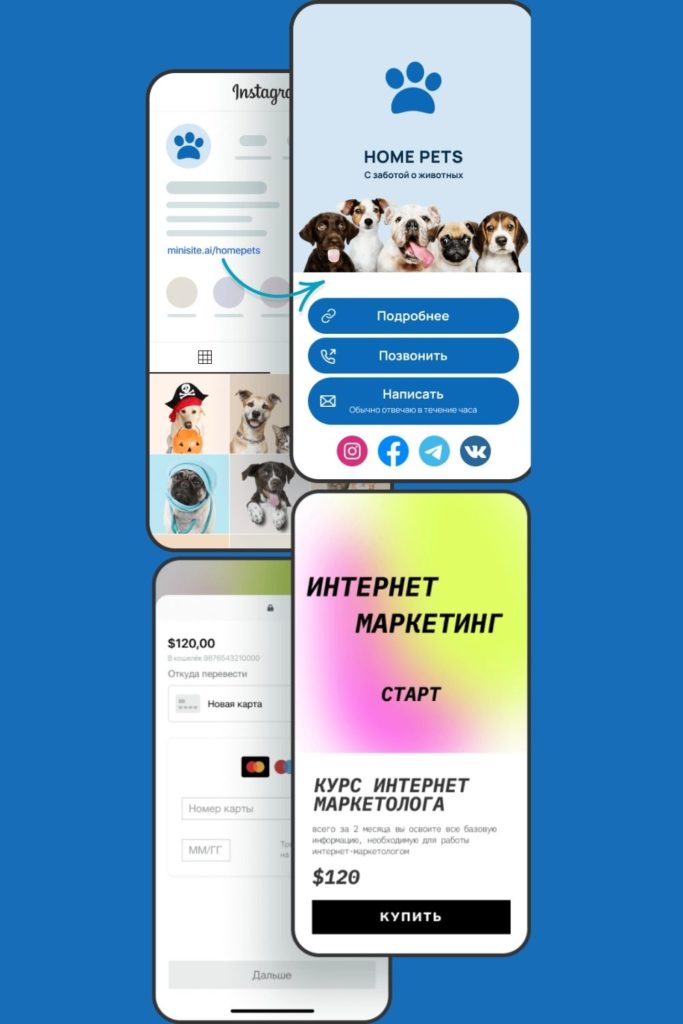 Features and benefits of the SendPulse landing page builder
The SendPulse landing page is an ecosystem with related functions for marketing automation. You can add chatbots made in our service to the ready-to-use frontend and use the forms to collect addresses and other data and use them for further mailings. SendPulse strives to create one workspace with many business-relevant functions, so you can work in one service, instead of wasting time and money on several different services.
Site builder capabilities:
Ready-made templates and a drag-and-drop block structure. Just drag and drop the desired element to the right place of your landing page.
SEO optimization. Landing pages made in SendPulse are indexed by search engines. Under SEO, you can add your website title and description, keywords and images.
Analytics and retargeting advertising campaigns. SendPulse offers basic analytics such as views and click-throughs on the links of a landing page per week, month or quarter.  The builder also allows you to connect Google Analytics, Yandex.Metrics, Facebook and VKontakte pixels to your landing page. You can launch full-fledged retargeting campaigns in these advertising networks.
Payment Acceptance. Turn a landing page into a selling one with the payment button. In SendPulse you can bind several payment systems to accept money from customers: YooMoney, PayPal, Fondy. Simply put a payment button on the banding, select the payment system and specify the name of the product and the amount.
Clickable contacts. You can pack links to other social networks into the mini-landing, translate into a dialog with a chatbot, specify a phone number and email that you just need to click to call or write.
Information gathering. Add a form to the frontend and collect the necessary data from users. The form can be anything: order a callback, subscribe to a newsletter, ask a clarifying question, and so on.
FAQ block. Put a block of FAQ on the mini-banding, which will close the frequent questions of users, saving tech support time and help to make the target action (conversion).
Any necessary text, links, photos and videos. Add photos of your products, team, customers, video tutorials and testimonials. Put links – to the main site, social media posts, surveys and so on.
Data collection forms.  In addition to standard input fields there are checkboxes and radio buttons and much more.
Your domain. By default, all web pages are created on our subdomain, and the link is generated automatically. But it can be easily changed, even on the free plan. It's also possible to connect your domain name if you have one.
Multi-link for your Instagram profile. Use multi-links to promote your brand on Instagram or other social networks. Instagram only allows you to add one link to your profile, and you want several. That's why create a page with multiple links and attract subscribers to multiple pages at once: your blog, store, social media or messengers.
The Builder is available to all SendPulse customers, including free plans. Go to your account or register, create your pages and grow your business!