Web Hosting Zomro
$2.83
Zomro is a budget and performance hosting service. Professional support for the whole range of hosting services! On all plans: Unlimited traffic, No hard limits on hardware resources.
Description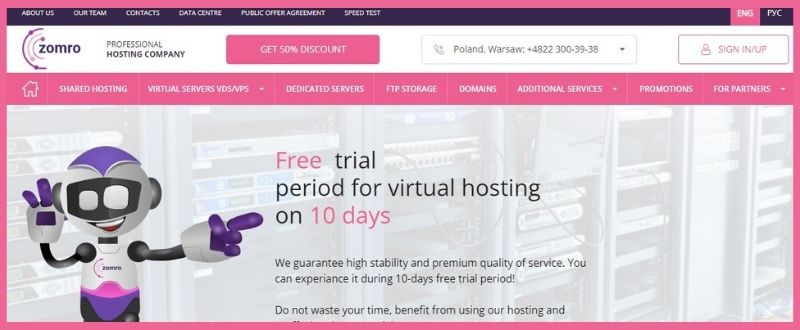 Zomro is a low-cost hosting provider and domain registrar. Zomro was founded by a small team from Ukraine in 2014, the company's data center is located in the Netherlands. The company provides services to customers in Russia, Ukraine, Poland, France, Latvia and the Netherlands. Today Zomro provides a full range of hosting services: virtual hosting, virtual server, dedicated server and domain name registration.
Today we will conduct a complete review of the hoster Zomro and identify all the advantages and disadvantages. Whether it is worth using Zomro's services – read on.
Actuality stocks
The company actively uses promotions to attract the audience – every day on the website of the hoster there are offers with a discount on the connection or renewal of hosting, server rental or services. Let's take a look at Zomro's open-ended promotions:
Renewal discount – if you connect autopay, the company will reduce the renewal price by 5%.
Website relocation assistance – technical support will move the resource to the client from the servers of another provider for free.
Discount for video feedback about the hosting – for a one-minute video Zomro will give a one-time discount of up to 75% for shared hosting and up to 25% – for VDS/VPS.
Gift for independence – you can also get up to 75% discount on hosting renewal if you do not ask for technical support for more than 3 months.
The provider's most advantageous promotions are often time-limited and available only to new customers. The company regularly offers discounts of up to 50% on the first month of hosting and a bonus – service priority. See all current Zomro promotions on a separate page.
Zomro tariff plans
One of the strong advantages of the company is a balanced pricing policy. To place a typical site on CMS WordPress, the "Advantageous" tariff of $2.9 is suitable. As part of the tariff, the user is given 10 Gb SSD and part of the server capacity with a configuration of 128 GB DDR4 ECC and 2x Intel Xeon E5-2630v3. Provider guarantees stable work of the hosting at website traffic up to 1 000 and more users per day. All tariff plans have no limitations on the amount of traffic, e-mail requests and the number of FTP-accounts.
Company provides a 10-day test period only for shared hosting – you can't test Zomro VPS and VDS, but like any European campaign provides a refund within 1 month for the days not used in the tariff.
Shared Hosting
VPS / VDS
Dedicated servers
For all tariff plans:
Unlimited traffic
Unlimited mailboxes
Unlimited FTP-accounts
No strict resource allocation limits
Unlimited number of databases
Big storage VDS/VPS
«MEDIUM»: Price 7.99€/mon. | Processor: Intel Xeon 2.5 GHz | Core CPU: 1 | RAM: 2048 Mb | Disk space: 100 Gb | Port: 250 Mbps | Protection against DDoS attacks: No | Virtualization: KVM | Details
«GRAND»: Price 21.99€/mon. | Processor: Intel Xeon 2.5 GHz | Core CPU: 2 | RAM: 4096 Mb | Disk space: 300 Gb | Port: 500 Mbps | Protection against DDoS attacks: No | Virtualization: KVM | Details
Server rent service includes:
Free server setup and installation
All servers are connected to the port 100 Mbit/s., unlimited traffic
Each server is allocated 1 IPv4 address for free
All servers support both 32 and 64 bit systems
Operating systems to install: Linux, Windows Server and from your image/li>
Dedicated Zomro servers are located in the Netherlands, see the detailed configuration on the site.

Hosting tech support
Technical support for hosting works around the clock, but the response time is floating – sometimes the support team responds to common questions in 10-12 hours after treatment. There are several channels of communication with technical support:
To solve technical problems, we recommend contacting through the ticket in the personal cabinet – users who wrote to the ticket, get the highest priority in the service.
Via email – for technical issues you should write to support@zomro.com, for refund of unused funds from the account – sales@zomro.com. At the same time, the support team might not answer at all if a letter with a technical problem comes to the financial department.
By hotline phone numbers – calls in Russia are available by +7 (499) 350-24-28, for Ukraine – +38 (094) 71-11-686, there is also English-speaking support in Poland – +4822 300-39-38. On the phone you can get detailed advice, but with technical problems it is better to write in the ticket.
The hoster does not have a mobile app, the website hoster is quite inconvenient, because it does not provide a search system or knowledge base. For many organizational and financial issues is better to call the hotline – consultants in the chat on the site quickly responded to only 1 message from the user.
Backup and FTP storage
Backups on shared hosting are automatically created every day, backups for dedicated servers are set up and created manually. Created backups are copied to different data centers, which guarantees full protection of backup data.
The hoster also provides an FTP storage service at a price of 0.02€ per 1GB. Zomro quite favorable prices to rent FTP-servers, which allows budget backup storage. The minimum tariff for 0.74 € provides 25Gb of disk space, this size is quite enough for an additional backup of your site.
All data is mirrored to 4 disks at once and the servers are connected to 2 power supplies. FTP storage can be accessed via API or control panel, and high-speed SSDs reduce file downloads to a minimum. When working with backups, data exchange is protected by an enterprise-grade SSL certificate.
Where are the Zomro servers located
The Zomro Data Center is located in the Netherlands and has excellent data links with CIS countries. They are, at times, better than the communications between the different CIS regions, within the countries. This is due to the fact that there is a traffic exchange point in this Data Center, and the total number of uplinks and peering is over 30. The largest operators with whom direct channels are established: Level3, Telia Sonera, Global Crossing, Tata Telecommunications, Deutsche Telekom, Cogent, etc. The total throughput capacity is 4.5 Tbps.
Data center is suitable for bank cards processing servers and is certified according to PCI-DSS level. The entire territory of the data center is fenced with a high-voltage fence and equipped with video surveillance cameras; fire safety is ensured by an early smoke detection system and thermal sensors. Total throughput of the data center is 4.5 Tbit/s, and server racks can be powered up to 25 kW. The autonomy of the data center is provided by 16 diesel generators and an APC battery room.
You can check the speed and visibility on the special Zomro page.
Performance and uptime
Hosting data centers are equipped with modern servers based on Hewlett Packard, IBM and Dell equipment. For the overall performance on servers with virtual hosting Zomro responsible CPU 2 x Intel Xeon E5-2630v3 and RAM 128 GB DDR4 ECC, when ordering a VPS you can choose a system with 6-core Intel Xeon and up to 32 Gb RAM.
Zomro internet hosting uptime is 99.8-99.9%, averaging up to 17 hours of servers offline per year of use. The ping from the servers in the Netherlands to Moscow averages 42 ms. Overall, the performance and ping of Zomro hosting is on par with competitors with a similar number of users.
Site security and data protection
Security – this can be called one of the weaknesses of the hoster. The company does not offer users a free antivirus system – you can check the site for viruses or delete threats through a paid solution in the ISPmanager control panel. Also, the hoster does not sell SSL-certificates, but you can easily buy it and install it yourself. You can switch to the HTTPS protocol by installing the free Let's Encrypt certificate from the control panel.
Protection against DDOS attacks is only available for VPS servers for an additional fee of 5.63 € per month. When you connect the service, traffic redirection to the protected server begins only with the attack, but it provides maximum protection – at 2, 3, 4 and 7-level OSI.
Another paid service of the hoster – "Care of the site" cost 6.99€ a month. The service involves round-the-clock monitoring of the availability of the resource in the network, as well as assistance from Zomro technicians in eliminating vulnerabilities and software updates.
Hosting Control Panel
Zomro virtual hosting is available only on the Linux platform, for the management of which a free version of ISPmanager is provided. For virtual servers, VestaCP and its more advanced version – Hestia CP – are available for free. For an additional fee, ISPmanager Lite for VDS and VPS hosting is available as an option. To work with files, you will have to use the built-in manager of the ISPmanager control panel or Sprut – for VestaCP and Hestia CP.
Additional services of Zomro
A useful option on the web hosting site is the "Speed Test" tool to assess the ping and performance of web hosting. The service allows you to check the speed of hosting for any domain or IP address through channels with different bandwidths.
When ordering a virtual dedicated server, the provider also offers a free basic administration service. This includes setting up a web server on Linux, issuing a certificate and installing a control panel, as well as transferring data from server to server.
Pros & Cons Zomro
Hoster Zomro is an example of an average provider with its own advantages and disadvantages. Let's list the main points – from the advantages:
Flexible pricing policy – affordable cost of shared hosting and VPS, as well as no big difference in price between tariffs.
High-performance hardware – high-speed NVMe SSD disks and high bandwidth communication channels.
Honest performance of hosting and servers – the hoster does not put any restrictions on the load and does not slow down the work of users' websites.
No limits on database queries, FTP-accounts, mailboxes and traffic on all types of shared hosting plans.
Technical support available in 3 languages.
Of the major disadvantages of Zomro:
The helpdesk may take a long time to answer, and for technical questions you can only get a quick answer through a ticket.
The hoster is not an accredited representative of ICANN, so domains are better to buy from accredited registrars.
The lack of a test period for VPS/VDS, as well as the policy of returning only unused funds from the account to the users' account.
Weak toolkit of free tools for site protection and paid connection of security options.
The provider does not provide most of the basic features for users – Zomro does not have a website builder, hosting for e-commerce projects, or additional tools for easy management of web resources. The host offers more than 250 free scripts to customize the control panel and the site, but the installation and configuration is entirely up to the users.
Conclusion
In general, Zomro is a budget and productive hosting and is one of the top proven hosting companies. The hoster provides services at very affordable prices and can give a head start to larger providers thanks to modern server equipment. Zomro is ideal for experienced webmasters, and beginners for convenient work will often have to communicate with technical support.
Contacts Zomro
Website: zomro.com
Company: Zomro B.V. is registered in the Netherlands
Founded: 2014
Support language: English, Russian, Ukrainian
Central office:
country: Netherlands
city: Doetinchem
address: Gildenbroederslaan 1, 7005 BM
Contact Information:
phone: Ukraine, Kiev +38 (094) 71-11-686 ((Speak in Ukrainian or Russian)); Russia, Moscow +7 (499) 350-24-28 (Speak in Russian); Poland, Warsaw +4822 300-39-38 (Speak in English)
email: support@zomro.com, sales@zomro.com, director@zomro.com
Company's branches: Poland, Warszawa, Konstruktorska 11; Ukraine, Kiev, st. B. Zhitomirskaya, 20; Russian, Moscow, Schelkovskoe highway, 100, building. 1.
Payments: Bank cards (Visa, MasterCard, American Express), PayPal, WebMoney, Google Pay.
The data are taken from public sources. The dieg.info project is not responsible for the accuracy of the published data.
Additional information
| | |
| --- | --- |
| Data center: | |
| Price range: | $1.25 – 4.5 |
| Professional support CMS: | WordPress |
| Web server: | Apache + Nginx |
| Status: | Most reliable |
| Test period: | 3 days |
| IPv6 support | No |
| VPS lowest price (payment per year): $ | 3.40 |