Review browser MoreLogin
$0.00
MoreLogin⚡ is a modern browser with detection protection: Facebook, Instagram, Google, YouTube, Twitter, TikTok, Coinlist, Huobi, Binance, Bitget and more. The MoreLogin browser is one of the top of the best anti-detect browsers.
Description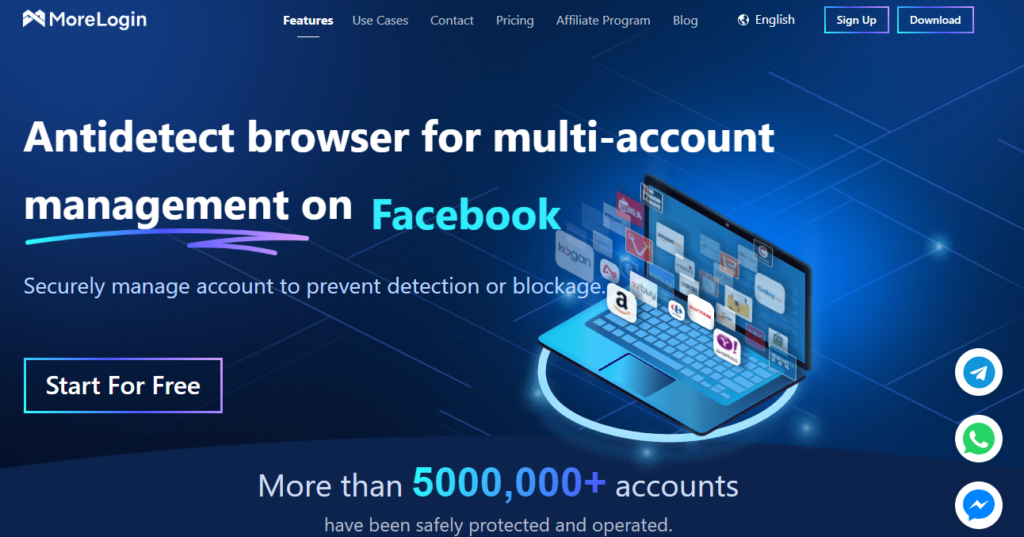 MoreLogin works perfectly with all popular platforms (Facebook, Instagram, Google, YouTube, Twitter, TikTok, Coinlist, Huobi, Binance, Bitget and others). MoreLogin will provide customers with a secure, efficient and practical SaaS platform with robust and reliable technology and first-class support. MoreLogin allows you to change dozens of parameters: WebRTC, Canvas, WebGL, Client Rects, Time Zone, Language, GEO, Processor, Memory, Screen, Media, Ports and more.
MoreLogin by MultiLogin can be considered a one-stop solution for preserving your online privacy and creating almost total immunity to even the most effective tracking tools. With multiple browser profiles that you can create on your computer or mobile app, you can access multiple e-commerce or social media sites and bypass restrictions that portals impose on users, such as banning certain words, not posting the same message multiple times, etc.
In a nutshell, with MoreLogin you can promote your products or services online through multiple accounts, access e-commerce websites, fearlessly use your social media profile and do much more without being tracked by any system or person. The free plan includes 2 users, which, with the help of the Group, allows you to test the convenience of delegating accounts.
Advantages of MoreLogin
Some key advantages that set MoreLogin apart from its competitors include:
You can work with more than 10,000 browser profiles simultaneously from a single device. However, MultiLogin recommends using a laptop or desktop PC to manage such a huge number. The more powerful your computer configuration is, the better.
MoreLogin uses the original fingerprint of your browser to create its own internal profile. However, this real digital data always stays private and NEVER reaches the target portals.
With MoreLogin, you can invite others to join your team so you can delegate some tasks to them. The best part is that for every invitee who joins MoreLogin, you earn referral points that you can monetize or use to buy additional profiles or proxies.
Mass profile creation and management is also possible in MoreLogin, where you can create multiple profiles at one time and manage them all from a central location.
Cookie Robot, which runs in the background while you use the app, manages cookies without your intervention, thereby simplifying profile management tasks.
You can even integrate the MoreLogin API into your workflows to save time and work more efficiently.
The app also lets you automate testing and web scraping tasks so you can use your time for other, more productive tasks.
SmartPaste and HumanInput features in MoreLogin allow you to mimic insertion and data entry, making the process much more convenient.
MoreLogin supports auto-delete and automatically moves all deleted profiles to the built-in recycle garbage can. This keeps your workspace clean.
You can share browser profiles with other users on your MoreLogin team for better task management.
MoreLogin allows you to easily switch between dark and light themes so that you can use the program in a color that is comfortable for your eyes.
The ability to change proxy IP addresses with a single click to change your digital fingerprints.
Plans and Pricing
MoreLogin is free to use. The free plan includes 2 users and 2 profiles, with no functionality restrictions. If necessary, you can purchase additional browser profiles at quite reasonable prices. You can choose the tariff plan that suits you best from the following table:
Morelogin has only 2 rates available (Free and Base), and you can create your own with the price constructor, which is very convenient and allows you to avoid overpaying for unnecessary resources.
How does MoreLogin generate canvas fingerprints?
MoreLogin uses machine learning technology to collect the fingerprint configurations of billions of real users around the world, unlike many other traditional browsers. This means you'll be using real fingerprints, which undoubtedly increases the security of your account access.
Contacts MoreLogin
Website: morelogin.com
Company:
Founded: 2019
Website Language: English, Vietnamese
Support language: English
Central office:
Contact Information:
phone: no, Communication via Facebook, Telegram, WhatsApp
email: support@morelogin.com, moreloginbrowser@gmail.com, marketing@morelogin.com
Management: Founder of Jameson
Company's branches:
Number of staff: 11 — 50
Payments: Bank cards (Visa, MasterCard, American Express), PayPal, Cryptocurrency, Card crpto, Vietqr, Gcash, MPESA Vodafone, VISA troy Wallet easypaisa FPX THAI QR PYAMENT PAYNOW
Clients: The company has protected more than 5,000,000 accounts since its inception. Concentrate on developing a variety of technologies, including browser kernel, fingerprinting, cookies and automated programs.
The data are taken from public sources. The dieg.info project is not responsible for the accuracy of the published data.